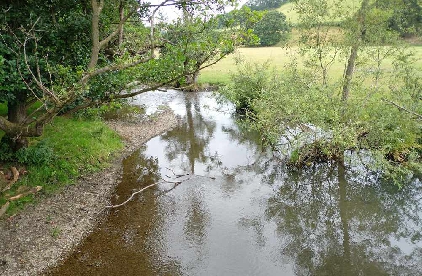 © Copyright Jeff Buck and licensed for reuse under this Creative Commons Licence.
Water pollution has forced Herefordshire Council to put planning applications on hold across a large part of the county.
Phosphate levels in the River Lugg catchment area are so high that the local authority is understood to have placed new development proposals on hold until it finds a way forward.
The Lugg catchment area in Herefordshire spreads from the Welsh border near Kington as far east as Bromyard and from the northern outskirts of Hereford to almost as far north as Orleton.
Several years ago, the local authority council launched a nutrient management plan to minimise the amount of pollution in the county's rivers.
But Natural England now says it isn't doing enough to address the problem.
Arrow ward councillor Roger Phillips told full council his area was affected.
"We have now had Natural England make a decision on phosphate levels in the river Lugg catchment area," he said.
"This has resulted in all planning applications in my ward being halted and none until the foreseeable future until this is resolved actually being granted.
He said he found out about the serious matter through thanks to a local resident.
"There should have been a briefing note sent to all of us that are affected.
"It can be seen as some degree of contempt with which elected members are dealt with. It isn't good enough."
A Herefordshire Council spokesperson said: "Natural England have recently raised concerns that the actions proposed for the River Lugg in the Nutrient Management Plan may not be sufficient to achieve favourable status and have therefore raised concerns about future development in the Lugg catchment until it is satisfied that the Nutrient Management Plan is back on target".
"We have worked with our partners to better regulate sources of phosphates, where this is possible, but there is more work to be done. We will continue to work with our partner agencies to find a solution as soon as possible."