Grow your business with radio and digital advertising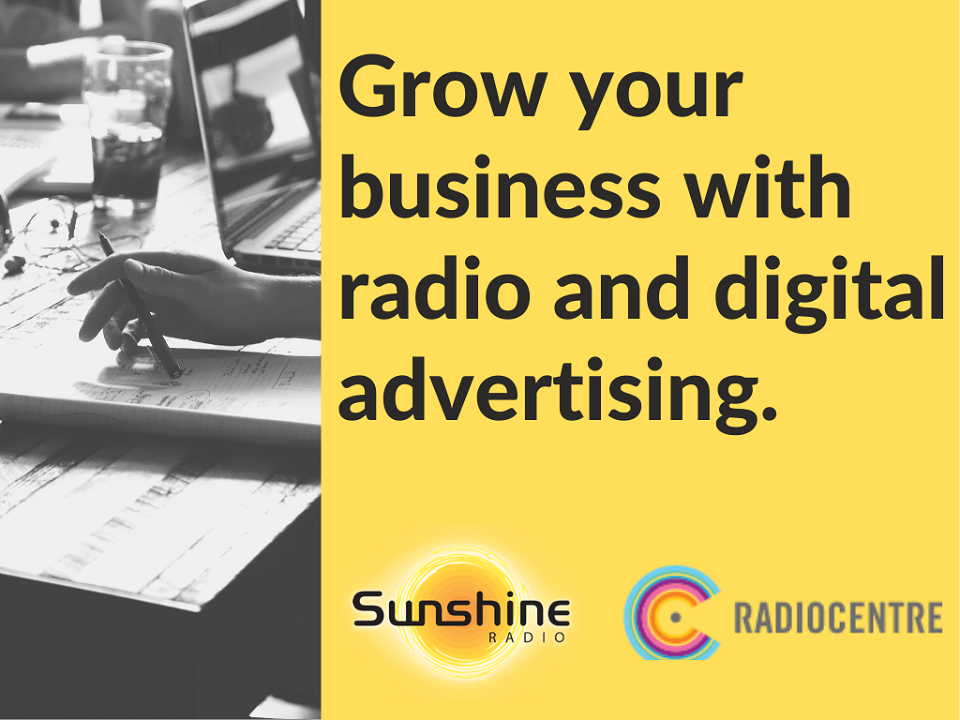 Radio is a fantastic medium for ambitious small and medium sized businesses that are looking to grow. With 36m listeners every week, commercial radio advertising is unskippable, unblockable, and unbeatable, helping businesses reach out to new customers to build awareness, boost response to websites and footfall to stores, and increase sales.
If you're trying to understand how radio can help grow your business, the material contained in this section explains just how effective radio advertising can be and how you can get the most from the medium.
How it works
What results you can expect
Planning and booking your campaign
Creating a radio ad
Valuable tips and insights

1. How it works
Whatever your objective, radio advertising can play an important role in growing your business.
Many small businesses use radio to drive immediate results, based on the medium's core strengths:
Radio delivers £7.70 revenue return on investment on average for every pound spent
Radio offers short lead-times and relatively low cost production, making it ideal for promoting tactical advertising messages at short notice
It is a highly cost-efficient medium – you buy more audience impressions for your money than with any other medium (see chart below)
It can be efficiently targeted by station-type; age, social grade, and gender; and geographical region
as well as by time of day and day of week
Radio delivers a larger audience than other media throughout the morning and is used by people to accompany tasks and activities across the day, making it easier for brands to reach people at relevant times and in relevant places.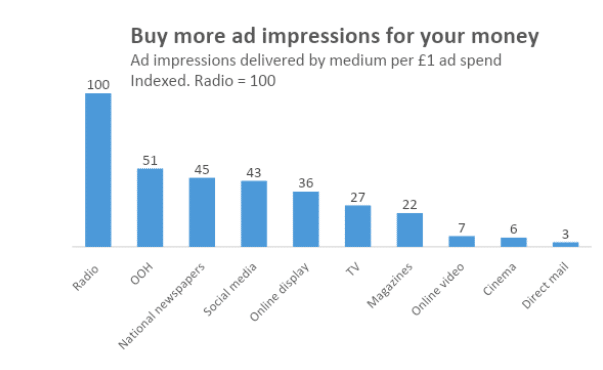 (Source: Re-evaluating Media/ebiquity)
Radio can also play a powerful role helping to build brands in the longer term.
Some business owners believe that brand-building is a luxury that has no impact on short-term success. However, wide-ranging advertising industry studies reveal that strongly branded businesses benefit from more effective, more efficient, and more profitable advertising across all time frames.
To be effective, brand building campaigns need to reach a wide audience, spark an emotional response, and create fame for the advertised business. With high levels of listening (two-thirds of adults tune in to commercial radio every week) radio is effective at delivering high reach for advertisers, and its main content – music – is inherently emotional. Industry research shows that campaigns that use radio are on average generate 60% more likely to make brands famous.
2. What results you can expect
Getting a return on your investment
According to analysis from over 500 campaigns, radio pays back £7.70 in increased revenue for every pound spent – second only to TV overall, and highest in product categories where advertising is used to drive immediate results e.g. retail, finance, travel, automotive.
Increasing response online
Radio boosts online brand browsing by an average of 52%. Results are immediate, with over half of responses generated within 24 hours of hearing the ad.
Boosting awareness and consideration
Listeners are, on average, 48% more aware of companies that have been advertised on the radio and 12% more likely to consider them when buying. Reallocating a proportion of budget from other media (e.g. TV or press into radio can increase overall awareness for no extra cost.
Building relevance and trust
Radio advertised brands feel more relevant and are much more trusted by radio listeners.
Measuring radio's effect on your business
If you are using radio either as a one-off test campaign or as part of a longer term strategy it is important to consider how you are going to measure the effects of your investment. To evaluate the success of a radio campaign based on specific business outcomes such as website visits, footfall in store, and/or sales, it is important to monitor the base level in these metrics in the weeks leading up to the activity to act as a comparison point for how they change during and post the radio advertising.
3. Planning and booking your campaign
Whatever your business goal, radio can flex to help you deliver it. Spot airtime is the most adaptable radio format and can be bought across different stations, day parts, and days of the week to best meet the needs of your business. But where do you start? The information is this section aims to help you scope out your own radio advertising campaign.
Deciding where to advertise
An important factor for many advertisers is selecting stations that focus on specific locations. With a range of national, regional and local stations covering most parts of the UK, radio is highly flexible geographically – providing opportunities for all types of advertisers to precisely target important locations efficiently. To explore the stations in your area and beyond, check out the Station Mapper.
Setting campaign weight/length
The standard length for most individual campaigns is around four weeks. However, what is right for your campaign will depend on the objectives. Is this about maintaining a constant level of awareness for an existing brand? In which case consider running over as long a period of time as budget will allow. Or is it about achieving maximum awareness as quickly as possible for a new brand launch or tactical offer? In which case, consider a shorter heavier burst of activity.
Booking your campaign
If you already work with a media agency they will be able to help recommend the optimum laydown for your advertising schedule and book this on your behalf. Alternatively, the sales team at the radio station(s) you choose to advertise with will advise on the best approach based on your specific goals and budget. You can find contact details for all commercial radio stations here
4. Creating a radio ad
The quality of your radio ad can have a huge impact on its commercial success – advertising studies show a strong link between creative excellence and effectiveness.
But where should you start to ensure that your ad uses radio to its full potential? And what is the process involved in getting your own radio ad written, produced, and ready to air?
Below is a 'nuts and bolts' guide to help you understand what works and how to brief radio ads.
What works well in radio advertising
A consistent creative route is the most effective approach – familiarity draws the listener in
When used alongside other media, radio is more effective if integrated through the use of common features (e.g. characters, strapline, music, voice)
Use of a consistent voice is particularly effective, especially when using radio as the primary broadcast medium (regardless of whether it is a celebrity voice)
Based on the above, even if you are using radio for the first time as a test, it is worth considering which audio elements you could carry forward into any subsequent campaigns.
Briefing your ad
The briefing process is vital because it ensures your advertising sets out in the right direction
The key elements that you should include in your brief are:
1. Context for the campaign e.g. what is the business problem you're trying to resolve? Who are your main competitors? How will you evaluate success
2. Defining the role for radio advertising: how does it fit in with the other media you are using?
3. Target audience: who is the main focus for this campaign? Are they already in the market for your product?
4. Desired response: what do you want people to think, feel, and do as a result of hearing your ad?
If you already work with an advertising/creative agency, they will respond to your brief and help you develop your radio advertising. Alternatively, the sales team at the radio station you are advertising with will liaise with their internal creative team to help bring your campaign to life.
5. Valuable tips and insights
How to get the most from using radio alongside other media
How to improve return on investment with radio
How to boost ad effectiveness by reaching people at relevant time
If you would like to find out more how Sunshine Radio can help grow your business (even in lockdown), or would just require some FREE marketing advice, fill your details in below, and a member of the Sunshine Team will be in contact today!
Thanks To Radiocentre for this information visit: Radiocentre | See radio differently
Hereford

Low-level cloud

High: 4°C | Low: -4°C

Ludlow

Sunny intervals

High: 4°C | Low: -3°C

Abergavenny

Low-level cloud

High: 5°C | Low: -1°C

Monmouth

Low-level cloud

High: 5°C | Low: -2°C