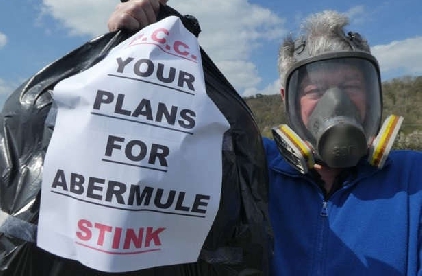 Questions on how Powys County Council will handle safety issues at the £4.1 million North Powys Bulking Facility at Abermule, need to be answered by November 1.
The Welsh Government's environment body, Natural Resources Wales (NRW), has given the council a deadline to provide the information in what is called a "Schedule 5 Notice" as part of the Environment Permit application process.
The council say they are "confident" they can provide all the information needed.
The permit needs to be granted before the site can become operational.
One of the questions asked by NRW is on the fire prevention and mitigation plan for the site.
Fears of a blaze at the site were highlighted over the summer after a fire at Potters recycling centre in Welshpool.
NRW have said that the information on the fire plan for the site is either: "missing, unclear or does not meet the requirements of our guidance."
The council have also been asked for more information on smells that could come from the site as well as "revise" their dust and emissions management plan.
NRW also state in the documents that they are: "aware of historic flooding on the site" and ask that the council consider this in the accident management plan for the site.
A spokesman for NRW explained that when the process is complete they will reach a draft decision on whether to grant or refuse the application.
NRW said: "We will then hold a second public consultation on our draft decision, again taking into consideration any relevant comments before reaching a final decision."
A spokeswoman for PCC said: "We can confirm that we have every confidence of being able to answer the NRW questions by November 1."
A public consultation which allowed villagers to have their say on the permit application was held earlier this year from May 20 to July 1.
Mark Pearce of campaign group Abermule Communities Together (ACT) said: "It is apparent from even a cursory initial reading of the notice that NRW has clearly taken on board many of the issues we submitted to them."
PCC propose that the site accept and process up to 22,500 tonnes a year of non-hazardous waste and a maximum of 425 tonnes is proposed at any one time.
The site is supposed to receive recycling collected from households across Montgomeryshire, where it will be squashed together or "bulked," so that it can be more easily transported to processors to turn into new products.
In August 2018, planning permission was given for the scheme.
In May 2019 the council's cabinet voted unanimously in favour of going ahead with the scheme after a full council meeting had urged them to refuse it.
Before the Covid-19 pandemic struck, it had been expected that building work at the site would have finished and that the facility would be up and running.
The council have said that the facility is needed so that they can hit Welsh Government recycling targets.