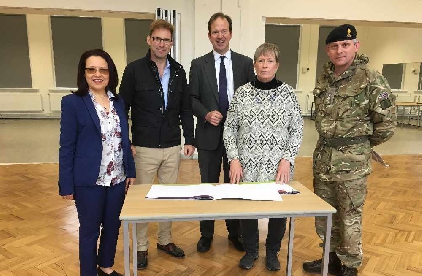 Hereford's new university could provide a new career path for ex-SAS soldiers when they retire from service.
New Model in Technology & Engineering bosses say they are working with the Army to help military leavers who wish to study with them.
Defence minister Tobias Ellwood, who visited NMiTE's newly acquired Blackfriars building recently, said their proposals were in line with what the government wants to do in terms of offering a wider choice of options to retiring soldiers.
"We are getting better at preparing people for the civilian environment," he said.
"When I left the armed forces, you just left with your military qualifications.
"Why not make it so that those qualifications are recognised by the civilian sector."
He said soldiers who currently leave have up to two years to transition into civilian life.
"95% of those who do it find themselves either back in education or a job within six months," he said.
"We are doing well at selling what skills the armed forces provide, such as leadership, teamwork, determination and grit."
Samantha Lewis, NMiTE's head of HR, said they were looking at ways of accrediting military leavers' experience.
She also said they had recently recruited someone from the Credenhill camp.
"We've just appointed one of the scientific guys from the Hereford garrison as one of our professors, so we have got their technical skills coming in to assist."
Mr Ellwood said there was still a stigma attached to ex-soldiers struggling to adapt to civilian life.
"Up the road here they immediately assume they have to find a job in security."
"That's when you have got to inject into these ideas.
"As they are leaving they need to know that these opportunities are here."
"It is great to see the genesis of a new university embracing the opportunities that the armed forces offer.
"That bond is brilliant to see for anyone coming into this neck of the woods militarily so that they know there is this opportunity at the end of it and that is what we need to see."