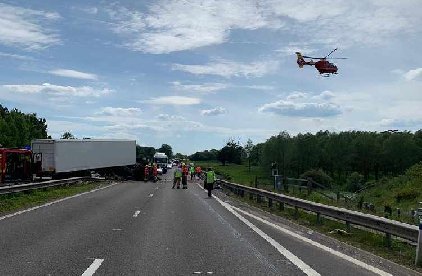 The M50 has been closed in both directions between J2 Ledbury and J1 Tewkesbury.
Emergency services were called out at just after 2:40pm following a lorry hitting the central reservation and colliding with a car.
The female driver of the car was cut free by firefighters and airlifted to Worcestershire Royal Hospital. The lorry driver was also taken to hospital by land ambulance.
West Mercia Police say the closure is likely to be in place for the duration of the evening.
There is no official diversion route but motorists may wish to consider the following route.
Eastbound Diversion - Traffic is advised to exit at J2 then head onto the A417 Southbound towards Gloucester, follow the A40 Eastbound to rejoin M5 J11.
Westbound Diversion - Traffic is advised to stay on the M5 Southbound to J11, then head onto the A40 Westbound towards Gloucester, then take the A417 Northbound to rejoin M50 at J2.