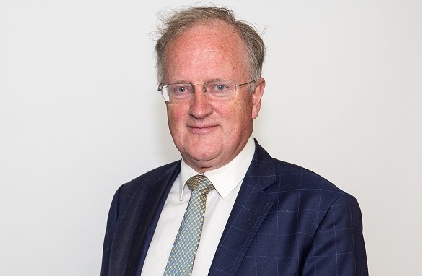 Independent councillor David Hitchiner has been re-elected as leader of Herefordshire Council.
The Stoney Street ward member was initially chosen last year to lead the coalition administration of Herefordshire Independents, It's Our County and Green Party councillors.
He now retains this position after being re-elected during the annual meeting of council last week.
Some 36 councillors voted in favour of his appointment and there were 15 abstentions.
Coun Hitchiner, who only became a councillor last year, said he was grateful for the support he has received over the 16 months.
"When I was elected at the last annual general meeting, little did I know what I was letting myself in for," he said.
"The obvious concerns have been the flooding, of which we had several events in February and the Covid pandemic.
"I have been very impressed with the way the officers have responded to these events, as well as councillors and the public.
"My and the county's thanks to them."
He also said the work to put together a county plan was challenging given that they are a coalition of three political groups.
"However, that task was achieved with a unity of purpose across all three groups.
"It balances economy, community and the environment and I believe it is in tune with our current times."
He said the plan was intact despite the Covid crisis but that they will have to go more slowly and be careful with the council's finances.
He said he was grateful for the support he has had from cabinet members.
"I lead with grateful thanks to my cabinet and cabinet support members. They are a very
"The future is not certain and there are many dark clouds around. But there are positives.
"Let us appreciate the positives of this fabulous county in which we live.
"Thank you for entrusting me with this position. I will do my very best for this county."
Coun Hitchiner's appointment was proposed by Green Party councillor Ellie Chowns and seconded by It's Our County councillor Alan Seldon.
"Councillor Hitchiner has provided very able leadership for the council for the past 16 months including during two periods of unprecedented crisis, the flooding and the Covid," coun Chowns said.
"He represents us excellently to external partners and his thoughtful, open, collegiate and responsive leadership style is appreciated across the council.
"I warmly commend his leadership and I'm delighted to put him forward."
The council leader and chairman are normally elected at the annual meeting of full council which is held every 12 months.
This year's meeting was initially scheduled for May but had to be postponed until September.