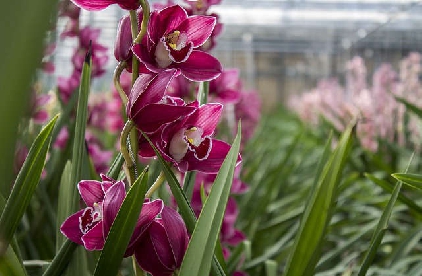 A Herefordshire garden designer and specialist plant supplier has won a planning battle to build eight houses on his nursery.
Peter Dowle, of Howle Hill, Ross-on-Wye, has garnered 11 gold medals over many years exhibiting at the Chelsea Flower Show, and has also appeared on BBC's Gardeners' World.
His bid to develop the 0.7-hectare Howle Hill Nursery site, originally for nine houses, was rejected last November by Herefordshire Council's planning committee against officers' advice.
The committee considered the site was "not well related to the main built-up part of Howle Hill" and lacked transport connections, while the houses' "scale and suburban form would have an unacceptable and harmful impact upon the character" of the hamlet and the Wye Valley Area of Outstanding Natural Beauty in which it lies.
However, Mr Dowle's appeal against the decision has now been successful. Planning inspector Liam Page argued the houses "would deliver proportionate housing growth within Howle Hill", where they "would make an appreciable contribution to unmet need".
As Howle Hill has neither a neighbourhood development plan nor a defined settlement boundary or "readily identifiable village centre", it was "reasonable" to consider the nursery site as within its main built-up area, he ruled.
The design of the proposed houses, on a brownfield site, was "sympathetic to the heritage of the locality", and would be screened, he said.
He considered the main issue was rather the impact of waste water from the houses on the River Wye Special Area of Conservation (SAC) . But he concluded that agreed mitigation measures "would ensure the proposal did not have significant adverse effects on the integrity of the SAC".
The nursery is currently open to professional landscapers and the public.
Mr Howle has also recently launched Leaf Creative, a specialist nursery and landscaping service ten miles to the west of Howle Hill near Huntley, Gloucestershire.