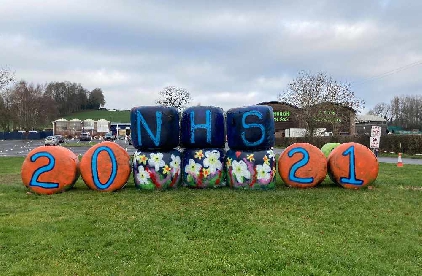 A farm shop in Herefordshire has introduced a three-metre social distancing policy.
Nick Price, owner of Oakchurch Farm Shop at Staunton-on-Wye made the announcement on Thursday.
"For the safety and protection of our customers and staff we've had a strict entry policy in place since March last year." He said. "But with coronavirus infection numbers soaring and under the latest lockdown restrictions, we felt it was time to step up another level."
"Numerous additional precautions are in place here at Oakchurch, as they have been for some time:
Shoppers are advised to send only one person to shop for the whole family and only take along a dependent if absolutely necessary.
You'll be asked to use hand wash and sanitising facilities before entering the store and given a freshly sterilised trolley or basket.
External doors are left open to allow better air circulation and face masks must be worn."
"The safety and wellbeing of our customers and staff is our highest priority and comes before profit in these uncertain and unpleasant times."
"We're delighted to be able to continue to keep our local community fed and watered and we're doing everything we can to keep everyone safe, but we still need your help to continue to do so when you are shopping with us please."
Oakchurch Farm Shop is at Staunton-on-Wye, just 10 minutes from Hereford on the A438 Brecon Road.