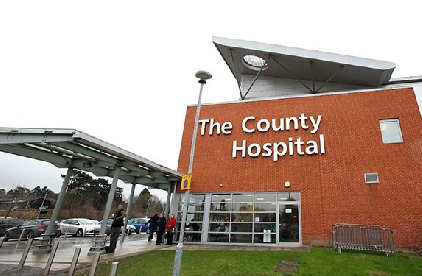 Care Quality Commission inspectors who visited Hereford County Hospital concluded that patients in the Emergency Department (ED) receive good care.
The team of inspectors carried out an unannounced visit to the hospital's ED in mid-December when the staff were coping with the usual winter pressures as well as the additional pressure of caring for dozens of Covid patients.
A report outlining their findings has been published today (Weds, Feb 24) in which urgent and emergency services at Hereford County Hospital maintained the overall rating of "good."
The inspectors highlight the fact that level of care remained consistent despite the added pressures caused by the pandemic and they were impressed by the "strong leadership" of the department where staff and managers worked together with mutual respect to ensure high quality care for their patients.
They also reported that staff spoke with pride about the department and said how happy they were to work there.
"We believe the report is a balanced and accurate reflection of our urgent and emergency services, in particular as it highlights the high quality of care we are giving our patients despite the extra pressures we see in winter being added to by the pressures caused by the pandemic," said Jane Ives, the Trust's Managing Director.
"The dedication, commitment and professionalism that our staff have shown throughout the last 12 months has been extraordinary. This is reflected right across the organisation and the CQC inspectors rightly singled this out as a key element of our success.
"We know what we have to do and will continue to build on the plans and processes we have in place. We have an extensive refurbishment of the Emergency Department taking place and a new Same Day Emergency Care facility is due to open its doors within days and a new Paediatric assessment until within the next few weeks.
"This can only improve the quality of care and experience of our patients," added Jane.