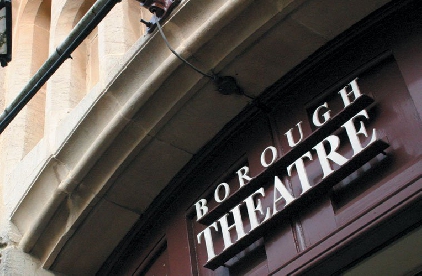 Monmouthshire County Council has agreed to underwrite a funding shortfall needed to complete a refurbishment of Abergavenny's Borough Theatre.
The refurbishment includes replacing old seating, updating the heating and air conditioning system, improving the foyer, increasing the number of toilets, moving the box office and refreshing the backstage area and dressing rooms.
But costs have increased to more than £1 million, from an initial estimate of £400,000.
Further funding has been identified, and discussions are ongoing with Abergavenny Town Council about potential support towards the remaining shortfall of £278,943 to carry out the refurbishment.
Councillors unanimously agreed for the county council to underwrite any remaining shortfall at a full council meeting on Thursday.
Cllr Lisa Dymock, cabinet member for community wellbeing and social justice, said the refurbishment would see "a beautiful theatre brought up-to-date", making it more accessible and improving the experience for theatre-goers as well as performers.
"The theatre has a huge value to the county and we aspire to make Abergavenny the cultural arts centre," she said.
Cllr Dimitri Batrouni, the council's Labour group leader, questioned the rise in costs for the project.
"I support the money towards Abergavenny Borough Theatre," he said.
"But I want to understand how could officers and the cabinet member get the financial costs so wrong?"
Cllr Dymock said the original plan included a phased scheme, but she said it did not capture all of the work required.
"We can't just do a superficial facelift," she said.
"It's best to do an overhaul and deliver something of quality."
Other issues such as the impact of the coronavirus pandemic and Suez canal crisis have also been blamed for the increase in costs.
Abergavenny member Sheila Woodhouse said the refurbishment was "vitally important" for the venue, which once hosted The Beatles and is located within the Grade-II-listed town hall.
Cllr Martyn Groucutt, chairman of Abergavenny Town Council's policy and resources committee, said the request for funding would be considered "very carefully", but he warned that the town council is "not a cash cow".
A request for a contribution of £20,000 per year for an initial period of five years is being considered by Abergavenny Town Council.
Monmouthshire County Council will meet any remaining shortfall by loan funding or through capital receipts.