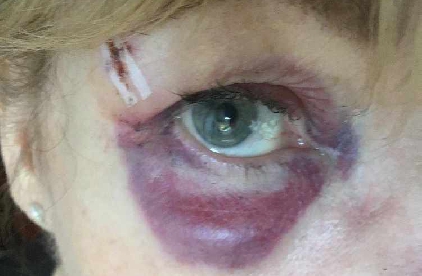 A county resident who fell and badly bruised her eye fears vulnerable people are not being kept safe due to the 'awful' state of pavements in Hereford.
Jane Calow tripped while walking along Cantilupe Street in Hereford earlier this month – she hurt her eye, grazed her knee and hand.
She says the uneven camber was to blame for her fall and is calling on Herefordshire Council to fix the problem before anybody else is hurt.
"The awful state of our pavements place people in jeopardy," she said.
"On Tuesday at 1.30pm I walked along Cantilupe Street and the uneven camber of the pavement made me fall over and I was injured.
"I am a healthy person and was quite shocked by what happened to me.
"Fortunately my partner was not far away and is remote emergency care qualified and could come to my rescue quickly.
"Even so, I found this experience traumatic.
"How would this experience affect more vulnerable people?
"How are vulnerable people to be kept safe?"
A Herefordshire Council spokesperson said they take the matter seriously and are willing to investigate the issue.
"The health and safety of the public and our workforce is always our primary concern," he said.
"Our roads and footways are inspected and maintained by Balfour Beatty Living Places.
"Pavements are inspected regularly and our records do not show any identified defects in Cantilupe Street.
"However we take this matter seriously and would welcome further information about the location of the fall so it can be further investigated.
"This can be done by calling 01432 261800 and we do hope the person concerned makes a speedy recovery."