Chris Roberts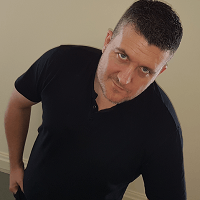 Ever since I was a kid I always wanted to be a bus driver or a DJ and used to produce my own bedroom radio shows with my sisters as presenters and jingle singers mixing between cassette tapes and records by carefully pressing both buttons together on my little stereo.
As soon as I left school my father bought me my first mobile disco setup and I soon built up a big reputation as a great DJ and Entertainer.
After a few years as resident DJ at bars and clubs I entered a 'search for a star' contest for BRMB in Birmingham which I was picked as joint winner with another entrant! At the same time the station was taken over by a larger company and the opportunity to be taken on as presenter never materialised.
Not long after that I volunteered as drivetime presenter on Vale FM in Birmingham which is where I learned and gained qualifications in radio broadcast and journalism. I spent 3 years there where I presented my show and also spent a long spell as duty manager providing support for on air presenters and generally keeping an eye on things.
All the time I continued as a full time DJ and entertainer and bars and nightclubs in Worcestershire and the Midlands.
After spending over a decade as resident DJ in Hereford I finally got given my chance to present Friday Night Floorfillers on Sunshine which (hopefully) the management loved.
So, here I am today presenting Floorfillers and Sunday Lunchtimes and loving every minute!
In between radio shows you'll find me DJing to drunk people at Yates in Cheltenham and being a crazy kids entertainer in the daytimes.
My favourite pastimes are eating too much, sleeping too little and being stressed by my wife and three kids.
Drop Chris a message below:
Hereford

Low-level cloud

High: 4°C | Low: -4°C

Ludlow

Sunny intervals

High: 4°C | Low: -3°C

Abergavenny

Low-level cloud

High: 5°C | Low: -1°C

Monmouth

Low-level cloud

High: 5°C | Low: -2°C