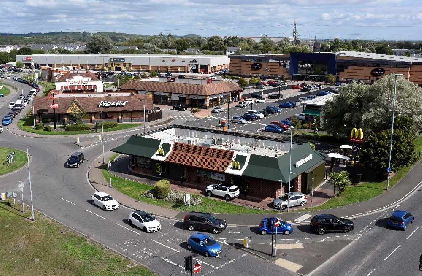 Stricter rules on local authority borrowing will 'hinder' Monmouthshire council's ability to invest outside of the county, councillors have been told.
Monmouthshire County Council bought Newport Leisure Park as a commercial investment in 2019 in a bid to secure funding to support frontline services.
However chancellor Rishi Sunak has introduced rules limiting councils' ability to borrow money to buy commercial property.
At a governance and audit committee meeting on Thursday, Cllr Val Smith asked about the impact of the changes for Monmouthshire council.
Cllr Smith said the council's commercial strategy had been "a very good initiative" and had generated income for the council.
But she said she feared there could be "a lot of problems" if the council is no longer able to take the strategy forward.
Peter Davies, the council's deputy chief executive and chief officer for resources, said the tightening of the rules related to councils borrowing just for return, rather than to support frontline services.
But he said the changes would 'hinder' the council in being able to make investments outside of the county in the future.
"The two investments that we hold in Castlegate and Newport Leisure Park, they are not affected," he said.
"They are retrospective, those investments have been made.
"The only thing we have got to be a little bit careful about and where we are getting some advice at the moment is where we are looking to invest further in those specific investments.
"I'm relatively positive in terms of our initial assessment that we won't be hindered."
A council report says Newport Leisure Park and Castlegate Business Park generated a combined profit of £159,018 in the last financial year.
Newport Leisure Park was badly hit by the impact of Covid-19, but Monmouthshire council has said it remains 'optimistic' over its future prospects.
A council report adds: "In common with the leisure and retail sector, commercial investments have been badly affected by the impacts of Covid-19 but continue to be supported by the Welsh Government's Covid hardship fund.
"Whilst the position may improve in light of changes to the legal requirements on social distancing, this is as yet unproven as it will depend on consumers' behaviour and their appetite to return to leisure venues without restrictions in place.
"As with all investments, this is being actively monitored with discussions are ongoing with tenants."