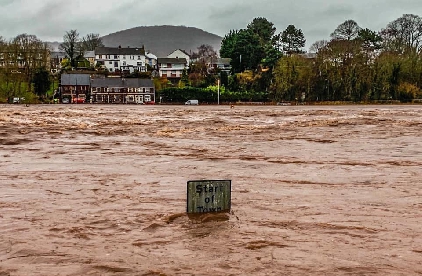 Several areas have declared major incidents following severe flooding. Regular travel and weather updates on 105.9FM, 106.2FM, 107FM, 107.8FM, 855AM and DAB.
Herefordshire
A major incident has been declared in Herefordshire as the county experiences significant and widespread flooding from rising river levels and deep surface flooding.
Emergency Evacuation Centres:
Holmer Leisure Centre, Holmer Road, Hereford
Point4, Venns Lane, Hereford
Leominster Leisure Centre
Travel: The following roads are closed or impassable.
- Bredwardine Bridge on B4352 is closed - please avoid the area.
- A438 is closed at Bridge Sollars - please avoid the area, please do not drive through floodwater.
- The Old Bridge in Herefordshire is closing to traffic and pedestrians - please avoid the area.
- B4224 Lucksall Caravan park, Mordiford/Fownhope
- A4110 Leintwardine
- A4110 Eardisland
- A4110 Stretford
- C1221 Kingstone
- Bullingham Lane
- Newtown Road, Hereford
- C1195 Peterchurch
- B4224 Fownhope
- B4352 Bredwardine
- U72211 Perton Lane, Stoke Edith
- U70009 Cross in Hand, How Caple
- Larport Lane, Lugwardine
- C1144 Longworth, Dormington
- C1144 Longworth Lane, Lugwardine to Dormington
- Newtown Road, Leominster
- B4399 Holme Lacy Causeway
- C1195 Peterchurch
- C1031 Rhyse Lane, Pembridge
- C1032 Bridge Street, Pembridge
- A44 Pembridge
- A49 in both directions closed due to flooding between Priory Place and A4103 (Starting Gate Roundabout).
- C1122, Wellington
- U72015 Lower Bullingham Lane, Lower Bullingham
- C1055 between Kimbolton & Hamnish, Kimbolton
- C1196 From Rose Cottage to Cornerstone, Madley
- B4399 Holme Lacy to Dinedor Reopened
- U74903 Kilpeck
- A438 Kingsacre Holt - Letton
- A417 Bodenham
- B4352 Clehonger Mordiford
- B4224 Millbrook Way, Orleton Hampton Bishop
- B4224 A4172 Little Marcle
- U72408 Preston Wynne
- A417 Stretton Grandison
- A465 Withington
- A4110 Canon Pyon
- A480 Mansel Lacey
-
C1196 From Rose Cottage to Cornerstone, Madley
B4262, Combe
U74903 kilpeck
A438 kingsacre holt - letton
A417 bodenham
B4352 Clehonger
Mordiford B4224
Millbrook way, Orleton
Hampton Bishop B4224
A4172 Little Marcle
u72408 preston wynne (passable with care)
A417 stretton grandison
A465 Withington
A4110 Canon Pyon (passable with care)
A480 Mansel Lacey
C1196 Stoney Street
U70408 Leys Hill Road, Walford
C1248 Llangarron (passable with care)
B4224 Fownhope
A480 Mansel Lacy
C1206 Vowchurch
Holmer Road, Hereford
A456 Little Hereford
B4203 Tedstone Wafre
A44 Monkland
Public Transport:
Buses | Update from @YeomansTravel
Due to severe flooding between Hereford and Leominster on the A49 we are cancelling this service today. Apologies but I hope you understand the implications of operating in this weather. pic.twitter.com/HhB5gHYF0n

— HerefordshireCouncil (@HfdsCouncil) February 16, 2020
Monmouthshire
A major incident has been declared in South Wales because of the flooding. Some residents in Monmouthshire have received a message from Natural Resources Wales to take immediate action. That means stay safe, move upstairs and take any precious possessions with you.
Emergency Evacuation Centres:
Shire Hall in Monmouth
Abergavenny Leisure Centre (Residents of Skenfrith are being advised to evacuate due to flooding. Abergavenny Leisure Centre is identified as a place of safety for residents by Monmouth Local Authority and transport can be provided if required. Should residents refuse to leave they are advised to move to the upstairs of their property.)
Travel:
- Due to the land slip by Whitecastle
- Govilon Mill, as the brook has broken the bank
- There's a tree down between Redbrook and Wyesham
- Landslip at the end of the lane at the top of Heol Gerrig
- A4246 Abergavenny to Llanfoist Road is closed‬
- the road by Llanfoist Bridge
- B4598 Usk to Llancayo stretch
- Parts of the Old Hereford Road in Abergavenny
- A48 from the Rock and Fountain, through St Brides and into Magor is closed.
Public Transport:
#Cwmbran - Due to localised flooding, we regret to inform that our 83 service from Abergavenny to Monmouth in both directions is still suspended until further notice. Updates to follow.

— Stagecoach South Wales (@StagecoachWales) February 16, 2020
Shropshire
There are multiple flood warnings and severe flood warnings in place across Shropshire.
A Severe Flood Warning has been issued for Ludlow. If you are in need of sandbags, please call 0345 678 9000 and for more information about how to access sandbags, visit https://crowd.in/QKGVYf.
Georgie Timmins, Crisis Response Officer at British Red Cross said: "British Red Cross have been liaising with relevant local authorities, offering to support people affected by Storm Dennis across the UK. We are currently responding in Shropshire. Our volunteers know that when people are caught up in a crisis, one person's needs are different to the next person.
"Taking a few minutes to get together an emergency kit can make a huge difference. For more information on how to prepare ,visit redcross.org.uk".
Emergency Evacuation Centres:
An place of shelter for those effected by flooding in Ludlow is open at Ludlow Methodist Church is situated in the centre of Ludlow at 52 Broad Street, Ludlow SY8 1NH
Photo: Corve Street in Ludlow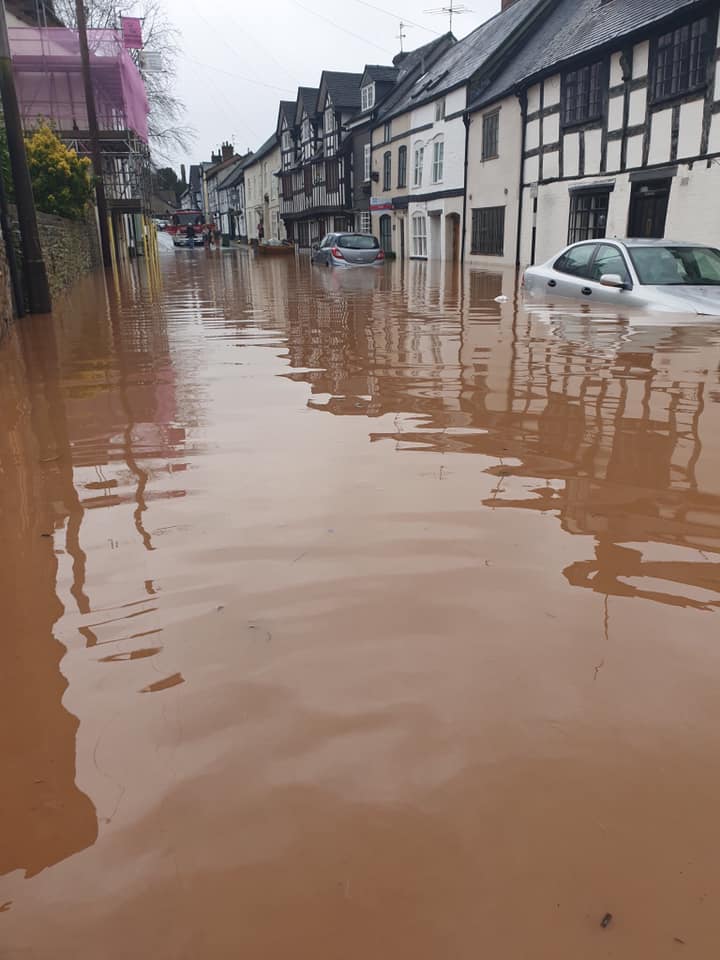 Worcestershire
Areas of Worcestershire continue to experience flooding with many roads closed across the county.
Although in some areas river levels are dropping, they are set to rise again over the next few hours, peaking during the evening. A major incident has been declared.
There are currently two severe flood warnings, meaning danger to life, for the Tenbury Wells area. Roads around Tenbury are virtually all impassable, with the only road open via Leysters.
A Severe Flood Warning has been issued for Tenbury. Around 150 properties are being evacuated.
Police are currently dealing with an on-going multi-agency response to an incident near to Eastham Bridge on the River Teme in Tenbury Wells.
One man has been rescued.
Emergency Evacuation Centres:
Travel: The following roads are closed or impassable.
Worcester City
A4440 Hams Way, Worcester, Powick Roundabout closed
Hylton Road, Worcester
A443 Worcester Closed Between Tybridge Street & Henwick Road follow the Solid Black Circle Symbol.
Waverley Street, Worcester

Malvern Hills
C2065 Brockamin to A4103 Bransford, LEIGH,
Temeside Way, Powick
Malvern Road, Powick
New Mill Bridge Shelsley Beauchamp, C2228 - Diversion Via C2026-B4203 Stanford Bridge, C2228 & Vica Versa
A44 Worcester To Knightwick Closure, Bromyard Road, Cotheridge, A44 closed Crown East Roundabout To Knightwick
A443 Abberley to Newnham Bridge, A443 Eardiston, A443 Abberley to Newnham Bridge closed follow Hollow Black Square Symbol Route Via Clows Top
B4197 Ankerdine Hill Knightwick, Knighsford Bridge,closed at Ankerdine Hill Follow B4197 Martley B4204 Lower Broadheath C2061 Rejoin the A44 & Vica Versa
Eastham Bridge Closure, C2091follow Rhyse Ln diversion route via Tenbury..
Tenbury A4112 Teme St & Market St Closed Follow Solid Black Circle Diversion Route
Upton On Severn Hanley Road, B4211 closed between Hanley Rd Car Park & Brotharidge Green Ln U61203 Junction, Follow The Solid Black Circle Symbol Diversion Route
Upton On Severn Waterside, Dunns Lane is open for Pedestrian access only due to pumping equipment on site.
New St Upton on Severn closed Between The Old Fire Station To The Fruit Farm U61204 Junction.
New Street Upton on Severn closed From The Old Fire Station To Brotheridge Green

Wychavon
Besford Bridge, Pershore
Brook Lane Cropthorne C2022 closed from the Jubilee Bridge Fladbury C2022 closed from B4084 to Kennel Bank
Jubilee Bridge Fladbury C2022 Closed from Mill Bank To Neigh Lane
Foxhill Lane, Alvechurch
Stratford Road, Honeybourne
Farm Lane, South Littleton
Eckington Bridge, Pershore Road, (B4080) Eckington Rd closed Between New Barn Rd Birlingham & New Rd Junction Eckington, Follow Black Hollow Square Diversion.
Shell Ford, Goosehill Lane to Earls common, closed (C2150). Diversion Via Himbleton C2032 & C2080
Walcot Ford closed, Diversion Via A44 and Stonebow Rd (Height Restiction 13' 9" on Stonebow Rd)

Wyre Forest
Caunsall Road, Kidderminster
The Forest, Hampton Lovett
Kinver Lane, Kidderminster
Bewdley B4194 (Switchback), Stourport Road, Bewdley B4194 (Switchback) closed Near Ribbesford Follow Diversion
Bewdley Load Street, Bridge (B4190) to Beales Corner, Kidderminster Road, closed use signed diversion to cross the river
Bewdley Severn Side North, Load Street, Bewdley U10227 closed
Bewdley Severn Side South, U10500 Closed
Bewdley Stourport Road, Kidderminster Road, Bewdley B4195 closed between Beales Corner & Westbourne Street
Charlton Lane, Hartlebury
Leapgate Lane, Hartlebury (U11319) closed from Wilden Top Road to Charlton Lane

Redditch
Rushock to Cutnall Green, Cutnall Green
B4510 Fish And Anchor Bank Closure, Cleeve road to Three Cocks Lane, Offenham
B4510 Fish And Anchor Bank Offenham Closed. Follow diversion route.