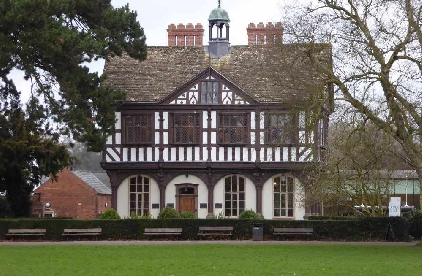 Licensing chiefs have asked for a site visit before considering plans to allow the sale of booze and to host events at Grange Court in Leominster.
LARC Development Trust has asked Herefordshire Council for a licence to host indoor and outdoor plays, films, live and recorded music, dance, and the sale and supply of alcohol seven days a week from 10am to 11pm.
The county council transferred ownership of the grade II* building, which was built by John Abel 'the King's Carpenter' in 1633, to LARC for the sum £1 in 2013.
The registered charity's website says it has raised more than £3m to ensure that the former market hall is owned and controlled by the people of Leominster.
The trust wants to host more events at the Grange but local people say several crimes have been reported and storing alcohol on the premises will only add to the problem.
"There are no perimeter deterrents and it has been common to see people scale the wall onto the building smashing tiles," a neighbour said.
"The area of Grange Court has been used for drug dealing and many times there is a gathering of alcohol fuelled youngsters making a noise either just on the seating area adjacent or under the light on Grange Court, listening to loud music."
Some 12 residents signed a letter of objection to the proposals while Leominster town council wrote in support of the proposals. Several town councillors are also trustees of LARC.
Speaking at the licensing hearing at Hereford Town Hall on October 1, committee chairman Alan Seldon said he believed a site visit was necessary to gauge the impact the proposals could have on nearby properties.
Councillors Jeremy Milln and Toni Fagan agreed and a site visit has been set for October 14 with a provisional licensing hearing scheduled for November 15.
In July, Leominster town council excluded members of the press and public to discuss plans for Grange Court in secret.
Prior to the meeting, councillors were also given a private presentation about future proposals for the site.