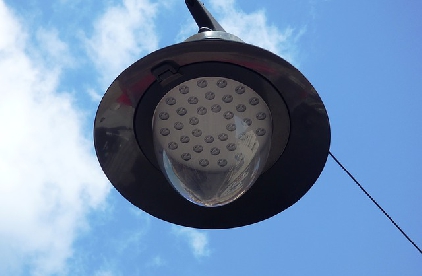 Council bosses will spend £8.5 million turning 16,000 street lights into LED lighting, it has been revealed.
Shropshire Council leader Peter Nutting said the move will take three years to complete, but will save the authority £1.2 million a year – and also be better for the environment.
The plans were revealed by Councillor Nutting and portfolio holder for climate change, Dean Carroll on Wednesday.
Councillor Nutting said it would save almost 3,000 tonnes of C02 every year.
The council will pay for 30 per cent of the scheme through its highways capital budget, while 70 per cent of the money will come from an interest free loan from Salix Finance.
He said: "The plans are set to be considered by the council's cabinet in September.
"Since 2013 the council has converted more than 3,300 street slights from conventional sodium discharge lighting to LED lighting.
"Subject to securing the Salix funding and cabinet approval, work would be carried out on the remaining 15,783 lights.
"Initial analysis shows the work could deliver annual savings of 5,675,552kWh, an energy cost reduction of £805,000 per year, plus a reduction in C02 emissions of 2,911 tonnes a year.
"Savings in operational and maintenance costs would provide a further £366,000 of additional savings per year."
Councillor Carroll said it was the latest move in a series of long-term proposals to tackle climate change in the county.
He recently became the council's first ever portfolio holder for climate change, but said work had been on-going for many years.
"This has always been a forward thinking council in those terms," he said.
"We have plans in place across all our departments, but we are always looking to do more.
"There are three motions coming to full council on May 16 about climate change and we hope our Conservative motion can really show what we have been doing already."
Councillor Carroll drew attention to the 490 solar panels the council installed on the roof of its Shirehall headquarters in Shrewsbury in May 2016 as proof of how seriously it had always taken climate change.
He said since they were introduced at a cost of £180,000 it had knocked £16,000 a year off its electricity bill, meaning the panels will pay for themselves in 10 years, giving financial revenue income in subsequent years.
He added that the total electricity generated by the panels since they were installed until May 8, 2019, was enough to boil water for 12,527,900 cups of tea, or watch television for 2,505,580 hours.