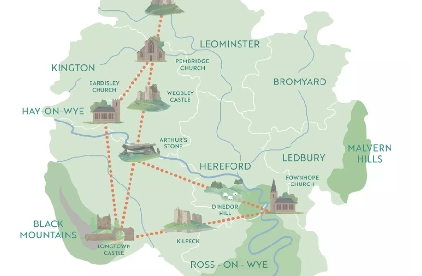 A 106 mile circumnavigation of the county to commemorate the centenary of ley lines has been launched in Herefordshire.
Visit Herefordshire is celebrating the centenary of Herefordian Alfred Watkins' discovery of ley lines by introducing a new scenic touring route – The Watkins Way – which explores the county's landscape, churches, standing stones and hill forts that join these intriguing lines.

The new drive is part of a campaign which includes a full programme of events taking place throughout the summer aiming to put a spotlight on the county and attract new visitors including guided walks, poetry, photography exhibitions and even a two day pilgrimage walk to mark this important anniversary.

The 100 mile route leads visitors to explore the hidden gems of the more remote parts of this rural county such as the often overlooked Cloddock Church set beside the river Monnow in the shadow of the Black Mountains.

The centenary events and legacy routes are all part of the Covid Tourism Recovery campaign funded by the Marches Local Enterprise Partnership (LEP) and executed through Herefordshire Council and Visit Herefordshire.

Chair of the Covid Tourism Recovery Steering Group appointed to manage the campaign, Jo Hilditch of White Heron Properties explains,
"The Watkins Way is the perfect way to embrace slow travel in our county, visit castles, standing stones and hillforts; this is low-impact tourism at its best. The ley lines centenary has allowed us to develop some fascinating new routes for visitors to explore the county to connect with the past through our historic buildings and unspoilt landscape. They will take that journey from the modern day to the ancient past, climbing hilltops to marvel at the views that sparked Watkins' revelation."