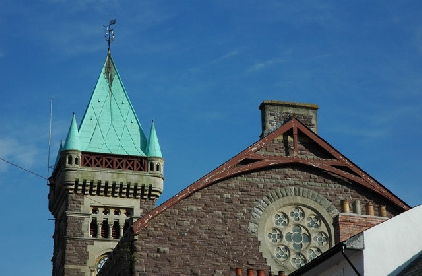 A long-awaited revamp of Abergavenny's town hall has been unanimously supported by Monmouthshire councillors.
Planning permission has been granted to install a new public lift to provide wheelchair access to a new first floor library hub and to the theatre on the second and third floors.
The plans also include 'remodelling' of the ground floor to form a theatre foyer and office, improvements to the building and changes to create a new library hub and mayor's parlour offices.
The grade-II listed building in Cross Street is planned to become one of Monmouthshire council's new community hubs.
It is hoped the scheme will provide an improved library service to the community and that it will also improve access to facilities.
Monmouthshire County Council's planning committee gave unanimous support to the project at a meeting on Tuesday.
Cllr Roger Harris (Labour, Croesonen) said he could not wait for the work to get started.
He said: "The interior is really well past its sell-by date.
"This work will only improve the facilities we have got there."
And Cllr Maureen Powell (Conservative, Castle ward) also gave her support to the plans.
"The sooner this gets started the better," she said.
"The town of Abergavenny has been waiting for a long time for this building to be refurbished."
The hall, built in the 1870s, currently houses the town council offices, the Abergavenny Market and the Borough Theatre.
Under the proposals, the ground and first floors would offer a 'one-stop shop' for council services, a public library and community learning provision.
A budget of around £2.2million has been set aside for the project, which is part of a wider initiative to deliver community hubs across the county.
Out of the budget, £80,000 is also planned to be set aside to match fund a possible Arts Council grant for making improvements to the Borough Theatre, situated within the building.
Similar hubs have been set up in Chepstow, Caldicot, Monmouth and Usk.
Set up in 2015, the hubs are estimated to save £300,000 per year "through reduced staffing and operating costs," according to a council report.
A planning report previously said that Abergavenny residents had expressed concern that the town was "lagging behind" other Monmouthshire communities where hubs had been operating for some time.
Currently the town's library, one-stop shop and community learning services operate independently of one another in different locations.
Listed building consent for the works was approved by Cadw last month.