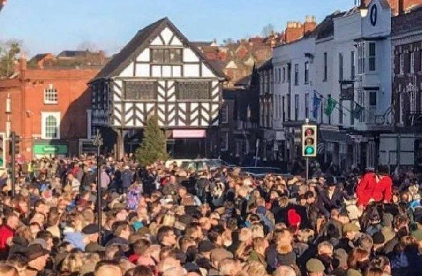 Opponents of the traditional Boxing Day hunt meet in a Herefordshire town look likely to be disappointed when the issue is debated this evening.
A Ledbury town councillor, who is also the deputy leader of Herefordshire Council, has expressed reservations about the meet but acknowledged it is likely to get the go-ahead.
There are "no reasonable grounds upon which Herefordshire Council can or should refuse" the Ledbury Hunt's request for a temporary road closure on December 27, Coun Liz Harvey said – "so long as the hunt has consulted properly on its plans".
This evening's town council debate "will be sufficient to tick the box for consultation with the council", she added.
She explained: "There needs to be a distinction drawn between the Ledbury Hunt lawfully seeking permission from Herefordshire Council as the Highway Authority to gather in the town centre for its post-Christmas meet, and the quite understandable and rising level of public concern at the proven criminal actions of hunt staff and hunt members across the country who have sought to circumvent the ban on hunting in the way they lay trails and conduct themselves in the countryside."
She also expressed concern that as the hunt proposes to gather on December 27, a Monday, in order to avoid meeting on a Sunday, "the road closure could make it difficult for people to access the town centre for a significant chunk of the trading day".
Ledbury Traders Association chair Susie McKechnie said that the likely impact on shops was unclear as these may be closed due the day being a bank holiday.
"But for restaurants and cafes its a positive, as it brings people into the town."
Assuming permission is granted, it will be for residents to decide whether they attend to support the hunt, to protest against what she described as "the pursuit's law-breaking", or to stay away, Coun Harvey said.
"Whilst we remain a free country, people are entitled to protest publicly and peacefully and to be safe whilst doing so.
"Equally, people are free trail hunt lawfully and to show their support for such country pursuits in the usual fashion without fear of harassment and interference."
Polly Portwin, spokeswoman for the Countryside Alliance which campaigns for field sports, said of the emails sent to the town council which prompted tonight's motion: "There's no explanation as to where they came from or what possible justification there is to ban a legitimate activity."
She added: "We hope the town council do the right thing and support this cherished annual event, even if it is just in a ceremonial capacity."
A Facebook post by the Herefordshire Hunt Sabs (saboteurs) group urged: "The hunt will be fighting this tooth and nail, and so must we."