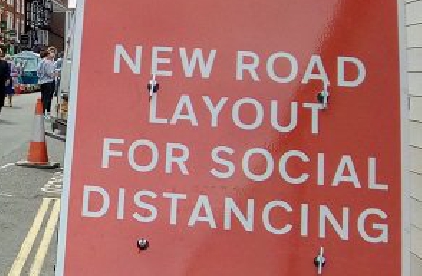 The temporary traffic measures put in place across Hereford and the market towns to aid social distancing may be debated by councillors next week.
Herefordshire Council has been introducing measures which include using temporary barriers and signage to widen footways, some timed or partial road closures along with 20mph speed limits as shops re-open and people return to work.
This came after the government asked local authorities to introduce the temporary measures to give pedestrians and cyclists more space.
But some of the have been blasted by local businesses.
And Tupsley ward councillor Jim Kenyon says the measures should be debated at the extraordinary council meeting on August 4.
His motion calls for the temporary measures to be discussed and, in light of the debate, council leaders may be asked to reconsider their decision to implement the changes.
"I understand what they are trying to achieve but they've removed the parking spaces on Bridge Street so you can socially distance," coun Kenyon said.
"But I was on the Vicky bridge today and you can't social distance on there and the pavements along Bridge Street are far wider than the Vicky bridge.
"What are they going to do? Put traffic lights on the Vicky bridge next?
"It's really frustrating that they haven't listened. The first thing is the motion to talk about it and my feeling is the chairman should break it down into the different areas, market towns and the city so we can go through each of them and say what we think of it as councillors.
"This will give a chance to councillors in the market towns and city to have more of say over how they feel about these changes.
"That's how we should run this council and scrutinise the decision. If they want an open, honest, and transparent politics and getting away from the cabinet system I think this is one way to do it.
"Full and thorough discussion about what we are trying to achieve and how we are going to go about it.
Three Crosses ward councillor Jonathan Lester, who is seconding the motion, said: "Because this has got such a lot of public interest and it has the potential to affect both residents and businesses it's worth discussing it.
"It would feel strange for all of that noise to be happening in the background and to not be able to talk about it at a convened council meeting.
"I haven't formed a view on whether or not the measures should stay as they are but I was asked should we discuss it at council and I can't see why not."
The meeting can be watched on Herefordshire Council's YouTube channel.