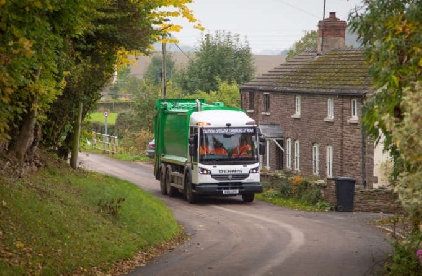 Plans to change rubbish and recycling collection arrangements from 2023 have been approved by councillors in Herefordshire.
The changes include a new weekly food waste collection service and a fortnightly, seasonal garden waste collection service from late 2023.
The enhanced service, providing much more recycling capacity, comprises the following collection "streams", which will improve both the quantity and quality of recycling:
· New bin. Paper and cardboard will be collected separately in new 240-litre wheelie bins
· Existing green bin. Metals (tins and cans), most plastics (pots, tubs, trays and bottles) and glass
· Existing black bin. Anything that cannot be recycled or put into food waste
· Food waste. All households will be provided with a new, 23-litre food caddy with liners provided by the council
· Garden waste bin. Residents can opt for a seasonal garden waste collection
News of the new waste arrangements was welcomed by Cllr Gemma Davies: "We have listened to our residents who told us they wanted more opportunities to recycle. Our new system provides more capacity to recycle from 2024. We know that for people living in flats or for larger families this will not be easy. We also will be looking for ways to help people in those circumstances and will say more about that in the future.
"This is just one part of our ambitious plans for helping people to reuse more, recycle more and waste less. I am also very pleased to have secured savings on our waste disposal contract and greater protection for when recyclers want to send materials outside of Europe. I am delighted that we will be achieving a 95 per cent reduction in waste going to landfill from next April to just one per cent."