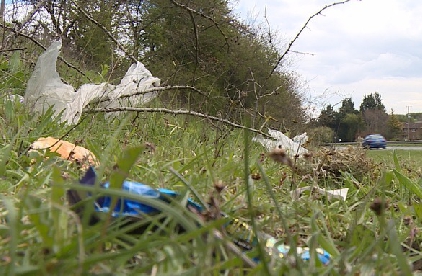 Monmouthshire council could become the first local authority in Wales to launch a publicly available litter strategy.
Councillors will this week discuss a draft of a new strategy aiming to make littering "unacceptable behaviour" and find 'innovative' ways of tackling the problem.
A council report reveals that last year saw an increase in littering within Monmouthshire for the first time in a decade.
A survey by the environmental charity, Keep Wales Tidy, shows smoking-related litter was by some way the biggest problem, found on 85.4 per cent of streets surveyed.
The second biggest source of litter was confectionery-related, found on 62.5 per cent of streets, followed by drinks litter on around 17 per cent of streets.
Roadside litter is also a problem, with the cost of cleaning the county's main 'A' roads estimated at £150,000 per year alone.
A council report says there are national litter strategies for England and Scotland, but not Wales, and that this would be the first publicly available local authority litter strategy in the country.
"Litter and its impact on wellbeing has never been higher on the agenda," the report says.
"Interest in this area has been significantly augmented by high profile national media such as the Blue Planet series and there is growing social media activity generating on the ground activity including the Plastic Free movement in Monmouthshire."
The report says the county council could play a leading role on the issue.
It adds: "It is felt that the county's position as a leader in the area of household waste recycling should be matched by an equally ambitious approach to litter."
The strategy will see the council support projects set up to tackle the issue and seek funding where possible.
A bid, with Keep Wales Tidy, to secure a grant of £30,000 per year for three years is currently being prepared.
The money would be spent on four key projects – Gateway to Wales, Love Where You Live, Give Dog Fouling the Red Card and Beacons of Beauty.
"Our ambition is simple," the draft strategy states.
"To make littering unacceptable behaviour and to seek new and innovative ways to reduce littering and to clear it promptly where it turns up."
Five themes to tackle the causes of litter have also been identified as part of the strategy.
These are education, enforcement, infrastructure, service design and partnership working.
But there are also challenges to creating the strategy including financial constraints, with resources to tackling litter described as being "severely limited."
The draft litter strategy will be discussed by the council's strong communities select committee on Thursday, which will suggest the areas of the plan to prioritise over the next three financial years.