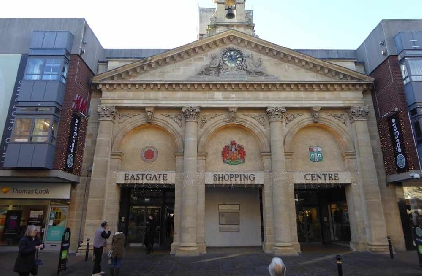 © Copyright David Smith and licensed for reuse under this Creative Commons Licence.
Gloucester City Council has finally revealed it bought Eastgate Shopping Centre, the second huge purchase in two months.
The authority won't confirm how much, but said the money to purchase the city centre shopping area has not been borrowed from other councils or the Treasury.
Eastgate Shopping Centre is home to major national chains such as Marks & Spencer, Topshop and H&M.
In November the city council bought St Oswald's Retail Park for £54million.
The city council has bought the long-term lease in the centre, and already owns the freehold of the shopping centre and has leases on the rooftop car park and indoor market hall.
The authority said it wants to transform the city centre's offering of being traditionally retail to "one with a variety of experiences throughout the day and night for residents, workers and visitors".
Paul James, cabinet member for regeneration and economy said: "This is another exciting acquisition for the Council that demonstrates our commitment to the city centre and gives us a greater ability to shape its future.
"Town and city centres are evolving but still have a vitally important role to play and it is right that local councils show leadership by investing in them and helping to ensure they can survive and thrive into the future."
"The Council already has a number of financial interests in the Eastgate, and it makes good long term commercial sense for us to control it in its entirety. It also enables us to resolve the future of the indoor market and give traders the certainty they have been seeking."
.By purchasing the Eastgate Shopping Centre, the city council will be able to proactively manage the retail offer in large parts of the city centre and develop plans to rebalance the mix of uses.
As well as giving the City Council greater control over the future direction of the city centre, the purchase also provides a sustainable and long term income for the council.