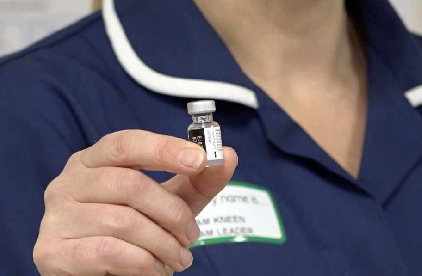 The University of Worcester has opened a vaccination clinic at its City Campus, which has been available for students and staff, and is now being opened to the wider community.
The Centre is open Tuesday-Saturday 8am to 8pm, on the lower ground floor of the Charles Hastings building at the University's City Campus in Castle Street – the former Worcester Royal Infirmary. It's a walk-in centre, so you don't need to book, just turn up and get your jab. The Pfizer vaccine will be available to anyone eligible for first and second doses. Please note no booster jabs will be available at this site.
The University has partnered with NHS Herefordshire and Worcestershire Clinical Commissioning Group and SW Healthcare to open the Centre.
Dr Tim Jones, Acting Deputy Pro Vice Chancellor Students, said: "We're really delighted to be working with our NHS partners to offer this facility to the wider community and to continue to play our part in helping to protect us all from Covid-19.
"We have been really pleased that so many of our new and returning students, many of whom have already been working on the NHS frontline, have been arriving already fully vaccinated. For those who had not had chance to do so before arriving, we have been able to offer them that opportunity through our on-campus clinic, making it really easy and straightforward for students to become vaccinated."
He added: "We believe that encouraging as many people as possible to get vaccinated is key to helping the nation recover from this pandemic and to keep as many people as possible safe, which is why we are committed to doing all we can to help the national vaccine campaign."
Dr Gemma Moore, Senior GP Partner at Ombersley Medical Practice and Clinical Director at SW Healthcare, said: "We're thrilled to have opened this centre to both University of Worcester students and members of the public. It's hard to underestimate the importance of getting vaccinated, no matter how young or healthy you are—particularly given around a fifth of hospital admissions from covid are now people aged 18-34. We'd urge everyone to play their part in helping to prevent the spread of coronavirus, and to keep themselves, their friends and their family safe by getting fully vaccinated as soon as they're able to do so."
Simon Trickett, at Chief Executive Officer for NHS Herefordshire and Worcestershire CCG, added: "We are delighted to continue our partnership with the University of Worcester to offer the Covid-19 vaccine to students and now to be able to offer an additional vaccination site for the local community in the city centre.
"This is another important step in the vaccination programme across Worcestershire and the fact that we are able to offer students and the public a convenient city location for them to take up the vaccine will enable our continued success in ensuring our population are fully vaccinated as we head into the winter period."