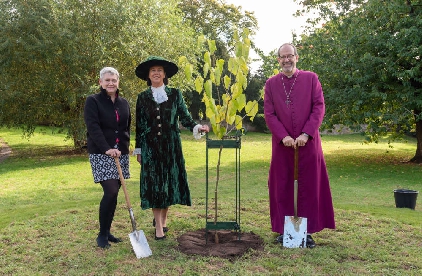 A Queen's green canopy tree was planted in Herefordshire as part of a nationwide ceremonial event.
Thee city's tree was planted on the site of the original motte of Hereford's castle to mark the Queen's Platinum Jubilee celebration in 2022. The initiative invites people from across the UK to plant a tree for the jubilee.
The tree, a Black Mulberry, was presented by the High Sheriff, Joanna Hilditch, on behalf of the Queen.
Dame Kate Bingham was joined by the Bishop Richard Jackson to cleave the ground with historic spades - one of which was the spade used by HM Queen Mary to plant an oak at Eastnor Castle, and the other used by HM Queen Elizabeth II to plant a previous jubilee tree in Hereford.
Dame Kate Bingham says: "It's a great privilege to be part of this historic planting. What better way to celebrate a 70 year reign - it's a fitting, sustainable and long lasting memento of HM the Queen I hope that schools, communities, organisations and individuals will follow our lead and get planting trees over the next 18 months."
Any school, organisation or individual wishing to plant a tree in Herefordshire should look at the QGC website and for further information email Ceri at the Lieutenancy Office lieutenancy@herefordshire.gov.uk