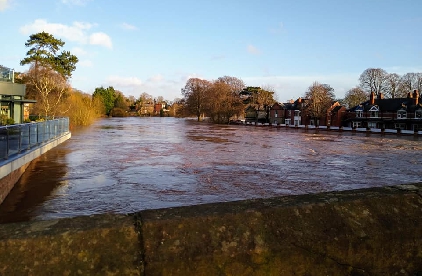 *LIVE* Updates on the flooding situation across the area.
You can listen to Sunshine Radio on 105.9FM, 106.2FM, 107FM, 107.8FM, 855AM, DAB & Online.
09:00 - Transport for Wales now says its currently unable to provide rail replacement buses in #Abergavenny and #Cwmbran due to flooded roads. A replacement bus service is running from #Hereford to #Newport.
08:55 - Caldicot Castle Country Park will be closed today.
08:50 - St Martin's Church on Ross Road in #Hereford has been opened for those affected by flooding. Refreshments etc are being served.
08:10 - Monmouthshire Council says do not attempt to drive across Llanfoist Bridge. Thee structure of the bridge needs checking and it needs to be cleared before it is safe to drive across.
07:35 - In Worcester, Free pedestrian shuttle buses will be operating along New Road from St Johns to the City Centre and back from 8am.
07:30 - Monmouthshire Council says the following roads are closed this morning:
Llanfoist Bridge
Abergavenny to Raglan old road not passable by Cripple Creep
Steel Horse to Chainbridge passable with care
Usk to Caerleon
Merthyr Road between Llanfoist and Govilon.
Glangrwyney Road closed
07:20 - The A49 Hereford to Ross road currently has NO issues with flooding, and this route to Worcester via the M50 and M5 is safe to travel. Please allow extra time due to spray on the road.
07:00 - Yeomans Travel in Hereford are currently unable to operate the 78X service to Rotherwas at the moment, journeys will terminate at Winston Rd. They are unable to service Hinton Road affecting the 88A service.
06:42 - Monmouthshire Council are expected to issue an update at 7am.
06:40 - Ledbury Road in Hereford has been closed. People are asked to avoid the area.
06:32 - Transport for Wales are running buses instead of trains between Newport and Hereford because of flooding on the line.
06:30 - A search will resume this morning after its feared a woman was washed away in floodwater yesterday in the #Tenbury area. Emergency services rescued one man from the Eastham Bridge area.
06:15 - Putson Baptist Church on Webtree Avenue in #Hereford will be opening its door this morning for those affected by flooding. Tea, coffee and breakfast will be served.
06:05 - More road closures confirmed in Hereford City.
Bridge Street, Hinton Road, Eign Road and Eign Mill Road.
05:45 - BREAKING: St Martins Avenue, Wye Avenue, Hinton Road & Hinton Crescent in Hereford may flood when the Wye peaks from 6am.
ALL residents should evacuate from these areas.
The nearest rest centre is the Leisure Centre on Holmer Road.