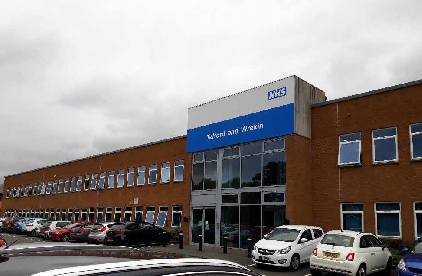 Alex Moore for LDRS
Despite a "significant decrease" in the number of patients attending A&E, Shropshire's main hospital trust is still failing to achieve a key waiting time target, health commissioners have heard.
NHS guidelines ask for 95 per cent of patients to be admitted, discharged or transferred to another hospital within four hours of arriving at the department.
At a recent meeting, CCG chief officer David Evans said there was one day when Shropshire's accident and emergency departments "nearly achieved" this standard, but the rate was "around 85 per cent".
He warned against complacency, and told the governance board that the chief executive of Shrewsbury and Telford Hospitals NHS Trust accepted that "internal issues" lay behind the performance.
The Telford and Wrekin NHS Clinical Commissioning Group governance board met virtually and in private earlier this month.
A performance report, prepared for the meeting, said that, throughout March, 78.9 per cent of A&E patients were seen within four hours at the Royal Shrewsbury Hospital, compared to 71.5 per cent at the Princess Royal Hospital.
Monthly statistics published by NHS England show that, across both hospitals, the figure rose to 80.9 per cent in April, but – like the England wide figure – total patient numbers were less than half those recorded in the same month last year.
Minutes of the CCG meeting, published this week, say board member Rachael Bryceland "highlighted that, even though there had been a significant decrease in the number of patients attending A&E, SaTH was still failing to achieve the 95 per cent four-hour waiting target".
The report adds: "Mr Evans commented that there had been some progress in terms of improvements and, on one day recently, the trust had nearly achieved 95 per cent.
"In general terms, however, it was currently around 85 per cent.
"Mr Evans notes he did not want to sound complacent and agreed that there was more work that needed to be done to achieve the target.
"Mr Evans went on to say that the new chief executive of SaTH, Louise Barnett, accepted that the issues were internal."
The four-hour target was reduced from 98 per cent to 95 per cent in 2010. Data published by NHS England say patients attended A&E departments around the country 916,581 times throughout April this year. In 837,696 of these cases – 90.4 per cent of the total – they were admitted, transferred or discharged within four hours.
Out of 182 trusts that have A&E departments, 96 achieved the 95 per cent target.
The Shrewsbury and Telford Hospitals NHS Trust, had the eight-lowest rate, at 80.9 per cent, and was one of the 86 trusts that fell below the target.
The lowest, on 77 per cent, was the Barking, Havering and Redbridge University Hospitals NHS Trust.