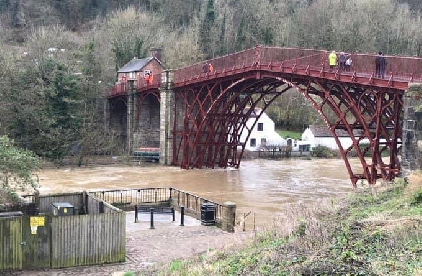 Residents in Ironbridge are being advised to evacuate their homes as a severe flood warning is in place due to rising river levels.
The severe flood warning has been issued by the Environment Agency following Storm Dennis.
The warning indicates there is a significant threat to life as water levels are expected to rise today.
Due to the current river levels and ground conditions there is potential for levels to flow over the Ironbridge barrier causing flooding of property and roads on and around Wharfage.
A rest centre has been set up at Cleo's restaurant in Ironbridge.
Emergency response partners including West Mercia Police, Shropshire Fire and Rescue Service, the Environment Agency, Shropshire Council and Telford & Wrekin Council are working together to keep people safe and plans have been put in place for today and the coming days.
Flood warnings are also in place in Bridgnorth with levels of the River Severn anticipated to peak this evening. Properties on Severn Terrace, Riverside and local caravan parks are likely to be affected.
Roads in Shrewsbury town centre also continue to be affected by flood water and are expected to be affected for the coming days.
Chief Superintendent Tom Harding from West Mercia Police and on behalf of the multi-agency flood response, said: "The water levels are rising higher than was initially anticipated so we are working together with our emergency response partners to evacuate a small number of residents in Ironbridge.
"Our absolute priority is their safety and the safety of the public and we're very grateful for the support we have received and are asking the community in the affected areas to make alternative arrangements where they can, if they can stay with family or friends or make use of the rest centre that has been set up.
"We know some people want to stay in their homes but we would really ask that for their own safety they find alternative arrangements. The levels could remain high for a few days and while they are fine now the situation could change rapidly. Not only are they risking their own safety but the safety of emergency services who ultimately could have to rescue them. Our absolute priority is the safety of local residents and I must stress the decision to evacuate residents is not something that has been taken lightly. We're doing everything we can to keep people safe and want to avoid any unnecessary risks."