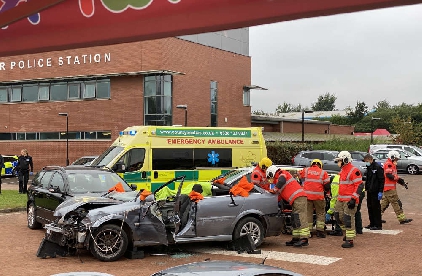 Young drivers, and their passengers, are being encouraged to remain safe on Herefordshire roads through an initiative that is targeting students in their final year of secondary school.
Hereford & Worcester Fire & Rescue Service working in partnership with Hereford Police, Safer Road Partnerships, Herefordshire Council Road Safety Team and the ELY Memorial Fund charity are holding simulated crash scenarios at Leominster Police station this week, 13th - 17th September, to enable Year 11 students to witness the emergency services demonstrate 'What's Behind the Siren' when fire, police and ambulance services attend road traffic collisions. An 18 minute extraction to remove casualties from a car demonstrates to young people the equipment, expertise, compassion and determination to remove casualties as quickly as possible within what is known as the 'Golden Hour' to the appropriate A&E trauma unit .
Students also participate in workshops about the 'Fatal Four': distraction; the importance of wearing a seat belt; appropriate speed within different environments and the impact of drugs and alcohol on driving.
The workshops are followed by the heart-breaking accounts by mothers who have lost their children on the road. Coun Ange Tyler speaks of losing her only daughter Emma Louise Young in a car accident in September 2010, recalling the initial 48 hours after the knock at the door from the police informing her that Emma had been killed.
Diana Wood also speaks of her journey losing her son Tom in June 2015, explaining to students that her son was speeding and tragically died at the scene of the accident.
Coun. Tyler, who established the ELY Memorial Fund, said: 'After two hours students will have witnessed and learnt about the 'Fatal Four' that could end in the loss of life, either as a passenger or driver, in a motor vehicle. The message to the young students from all partners involved with Dying 2 Drive, is to be our future drivers who will make the right choices to remain safe on our roads, as well as enjoying the best experiences of driving.'