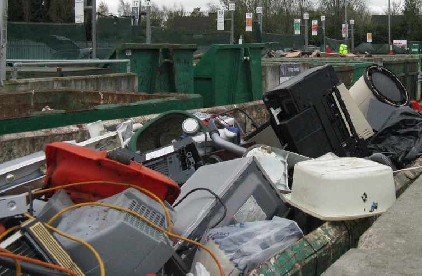 Rubbish tips in Bromyard, Kington, and Ledbury are expected to open next month, council leaders have said.
Herefordshire Council reopened its household recycling centres in Hereford and Leominster in May and reopened the one in Ross-on-Wye with a booking system.
However, the other market towns have had to do without during the coronavirus lockdown.
But now councillors say they are hopeful they can reopen the remaining sites from July 6.
Arrow ward councillor Roger Phillips asked for an update at yesterday's (June 25) cabinet meeting.
Commissioning, procurement and assets cabinet member Gemma Davies said they could only initially open three of the sites to ensure that costs were kept within budget.
She said managing the new social distancing and control measures had caused an increase in spending.
"The waste team and I have been having weekly meetings to discuss when the likely open of the remaining sites will be," she said.
"We had to wait to see how Ross-on-Wye went first with a booking system.
"I am pleased to say it has been a huge success and I would like to personally thank the residents of Ross-on-Wye and surrounding areas for their ability to make this system work.
"I am delighted to inform that, as a result of the waste team's incredible hard work finalising plans which have taken some weeks, that we have now been able to confirm that the remaining sites will be open.
"We are tentatively looking at this starting week commencing July 6.
"I say tentatively because we need to ensure that measures are in place to ensure the safety of staff and users. I hope to have a confirmed date within the next few days, and I will, of course, keep residents and staff up to date through our communications.
"The sites will be operated by a booking system to manage the amount of users coming to the site.
"This system will be used until the initial rush of visitors decreases to a manageable level.
"I would genuinely like to thank all of the residents who use these satellite sites for their patience and understanding whilst these plans have been worked up."
Coun Roger Phillips said he was pleased that the centres were reopening soon and asked if the administration was committed to keeping all sites open in future.
Coun Davies said there was no intention to close any of the sites.