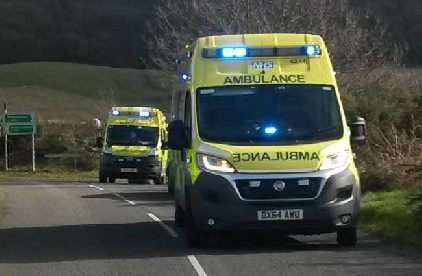 Racist abuse against ambulance staff could be being under-reported because it's a "daily occurrence" victims may see as "normal", service bosses have heard.
A West Midlands Ambulance Service committee also heard that "sexual advances against female crew members" go unreported as well, but addresses with a history of such attacks can be flagged and male-only crews sent in future.
The ruling trust's Quality Governance Committee heard that, between April 2019 and January this year, verbal and physical assaults had risen 23 per cent and eight per cent respectively, compared to the same period in 2018-19.
Minutes of the meeting say Head of Security and Safety Steve Elliker assured members that victims are supported by his team and their own managers, who can also accompany them to court if a prosecution takes place.
The document says QGC chairman Jacynth Ivey "asked where the trust stands with zero-tolerance an Mr Elliker replied this is totally encouraged in relation to hate or racial abuse and, although zero tolerance is accepted in principle, the trust has not withdrawn service."
Ms Ivey pointed out that most of the hate incidents against WMAS staff were race-related, and asked "whether the rationale for underreporting is [that] BME [black and minority ethnic] staff incur incidents daily and these are becoming a 'normal' part of their life".
The report adds that Stuart Gardner, a staff representative on the committee, said "incidents relating to sexual advances made against female crew members are not reported either"
Mr Elliker said a "do not send female crew members" flag could be added to certain addresses, and shown to staff through the computer-aided dispatch system. Police could be asked to attend, but this can cause delays.
Referring to physical and verbal assaults generally, Mr Elliker said each member of staff who suffered one we contacted by the security team and managers to offer support.
"Managers will accompany staff to court, but they can accept of decline this officer," the minutes say.
"Mr Elliker stated staff are always encouraged to report the incident to the police, although this does not always happen because it depends on different factors, such as mental health or how they feel or have been affected by the incident.
"Mr Elliker stated the trust does not report the incident. It only reports incidents of criminal damage to vehicles to the police."
The QGC committee minutes were presented to the West Midlands Ambulance Service University NHS Foundation Trust board of directors this week.
A spokesperson for WMAS said the board was told the committee would monitor the situation and take further action as needed.
"It was also commented upon how appalling it was that any member of staff should have to suffer such attacks at the hands of patients or other people at the scene of 999 calls," he added.
WMAS covers 5,000 square miles, incorporating Birmingham, the Black Country, Coventry, Herefordshire, Shropshire, Staffordshire, Telford and Wrekin, Warwickshire and Worcestershire.