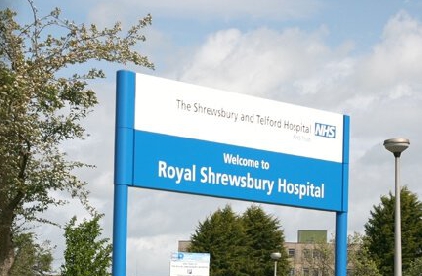 A whistleblower was "rebuffed" after raising concerns about asbestos at a hospital, but the NHS trust eventually "acted responsibly", investigating and rewriting its policies, a report says.
Les Small, from Wellington, was fired after alerting his boss about workers continuing to operate around damaged panels at a Royal Shrewsbury Hospital residential block.
In a report commissioned by Shrewsbury and Telford Hospital NHS Trust chairman Ben Reid, Fiona Scolding QC says: "Mr Small was dismissed from his role in 2012 when he should not have been."
Mr Small, who died aged 63 last year, won an unfair dismissal claim against SaTH the following year. Ms Scolding's report was due to be presented to the trust's board of directors on Thursday, July 30.
The senior lawyer, who is based at London's Landmark Chambers, was asked to examine the actions of former SaTH chief executive Simon Wright, former Finance Director Neil Nisbet, former Workforce Director Victoria Maher and Corporate Governance Director Julia Clarke, who remains at the trust, to decide whether they met the legal standard.
Ms Scolding examined evidence including court and tribunal judgments, correspondence, board meetings minutes and documents from an investigation, launched in 2014 by Ms Clarke into Mr Small's disclosure. She also interviewed Ms Clarke, Ms Maher, Mr Nisbet and Mr Wright.
She writes that: "Mr Small was dismissed from his role in 2012 when he should not have been. He raised legitimate concerns about workers continuing to operate when asbestos had been discovered on site.
"His line manager, in refusing to act or notify the health and safety team of the trust, acted wrongly.
"The Director of Estates, with whom he shared his concerns, acted wrongly."
The employment tribunal ruled Mr Small was a "whistleblower" making "a protected public interest disclosure".
He "should have been treated as such by the trust from the outset", Ms Scolding writes, but instead "was rebuffed and suffered detriment in the termination of his engagement".
At the 2013 tribunal, SaTH denied Mr Small had been dismissed because of his disclosure about asbestos, instead arguing his employment as a project manager in the estates department had only been short-term contract and was due to end.
Ms Scolding said that the account provided by some witnesses at the employment tribunal was found to be "unreliable". Following its ruling, SaTH "acted responsibly and undertook an internal investigation and a disciplinary investigation of the staff involved in the tribunal claim and who were working in the estates department at the time".
Ms Scolding adds: "As a response to these investigations, Mr Small was thanked for his courage and perseverance and the trust acknowledged they had got things wrong."
She names nine asbestos-handling improvements made since then, including buying specialist software and completely redrafting and annually reviewing policies for managing the substance.
SaTH apologised in writing, and Ms Clarke met him personally and ensured he was given a positive reference.
Ms Scolding concludes the trust acted "reasonably competently" once senior figures were aware of the issues Mr Small was raising, and Ms Clarke, Mr Nisbet, Mr Maher and Mr Wright are all "fit and proper persons", as defined in the 2008 Health and Social Care Act's regulations.
A summary, accompanying Ms Scolding's report, that was due to be presented by Mr Reid says: "This board of directors recognises Mr Small's personal contribution to raising awareness of the poor management of asbestos at the trust in 2012, which the 2014-15 investigation completely accepted.
"This board was also very sorry to hear of Mr Small's death in October."