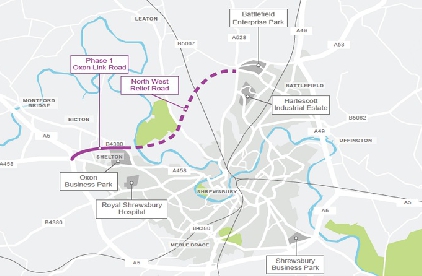 Shrewbury's planned northwest relief road (NWRR) plans have been delayed by a month by "last minute design requirements".
The senior council officer responsible for the project was due to give an update to the Shropshire Great Outdoors Strategy Board.
A six-week consultation, aimed at stakeholders and the general public, was due to start last month but has now been put back until February 27. As the plans are not in the public domain yet, Shropshire Council project manager Matt Johnson's presentation was shelved.
The project aims to link Bicton Heath to Battlefield Enterprise Park, completing Shrewsbury's link road. A planning application is expected to be submitted in the spring, and the project is currently forecast to be fully complete in 2025.
If approved, the single-carriageway road will include new bridges over the River Severn and the Shrewsbury-to-Chester railway line. It is estimated that it will cost £71 million, and the Department for Transport have already pledged £54 million towards it.
Board chairman Alex Carson-Taylor told his colleagues the update had been removed from the agenda.
Interim partnership manager Pete Banford said: "Mr Johnson was planning to update the board on the progress of the NWRR but, due to the last-minute design requirements of certain elements of the road, they have now had to push back the launch of the pre-planning consultation to February 27.
"Mr Johnson is not able to come prior to that because the plans aren't in the public domain.
"I have invited him to the meeting on June 4, which is the next opportunity to address the board."