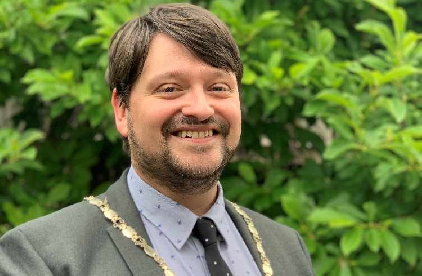 Ledbury's new mayor Daniel Vesma says the town must pull together to overcome the challenges following the coronavirus lockdown.
Councillor Vesma, who was elected unanimously on June 25, said he is really excited to take on the role.
"I'm only doing 10 months but there is an opportunity to build on some of the really good things the past two mayors have been able to do for Ledbury," he said.
"We are a small group half of the council sitting and it's a really close-knit team.
"Everything, sadly, is going to be Covid related – managing to strike that right balance between opening up and helping trade and jobs while keeping the community safe.
"It's going to take everyone working together and being considerate.
"I think the two big groups have done an incredible job and the retailers who have been forced to close have been stoic and understanding.
"It's exciting they are able to reopen again but community's often show their best side at times of crisis and I think Ledbury is showing that again this time."
His consort is Caitlin Kirkman and the new deputy mayor is Liz Harvey.
Coun Harvey said it is an honour to be elected as the town's deputy mayor for 2020.
"I look forward to supporting Dan in his mayoral year and our Clerk in her role as the council's chief officer.
"I hope that all councillors and staff can continue to work together for the good of the community we serve.
"I look forward to helping coun Vesma to build on the many achievements of coun Howells during his exceptional year in office."