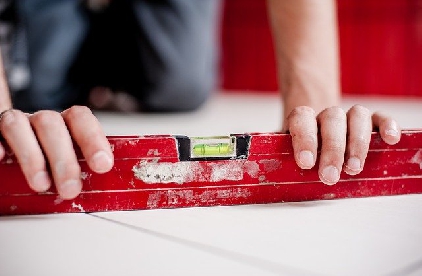 The construction industry in most of the northern half of the county has been halted for almost 10 months due to the phosphate issue affecting the River Lugg.
Herefordshire Council put a moratorium on developments in the Lugg catchment area which, within the county, spreads from the Welsh border near Kington as far east as Bromyard and from the northern outskirts of Hereford to almost as far north as Orleton.
The council says the measure will be in place until the nutrient management plan is back on target.
But the moratorium is crippling for those in the building trade and it's hurting the economy.
Merry Albright, of Border Oak, said: "The harm that is being done to human beings in a different sector, now that we know it is not caused by our sector, is awful.
"The moratorium that is 10 months old has stopped a whole sector from trading.
"The worst thing is it's very bad for Herefordshire. I'm very lucky, I build outside of the county and that is now where our strategic plans lie.
"We've decide we can't risk it in Hereford so we spend our money building in other counties and they are very welcoming of us to do that but for Herefordshire it's terrible.
"The employment factor is a problem. If you've got 60 people employed, and you know you haven't got work this year or next year for them, it's really difficult.
"If we had to spend a bit more money or work around more difficult situations we would do that to keep the people employed."
Richard Bradbury has plans to build three homes included a self build.
But he too cannot take them forward.
"Our village of Much Cowarne had an allocation of about 30 odd houses that the council wanted building in the village," he said.
"We were going to have a house built with a lift in it as my wife is disabled.
"But then everything changed with this moratorium. We had paid for all the water connections and this has left us hanging with tens of thousands of debt and nowhere to go."
Sue Cole, who lives in Westhope, has plans for four new homes including a self build property.
"We found out about this awful freezing of applications.
"Everybody in the chain has been affected.
"We are thousands out of pocket with nothing happening."