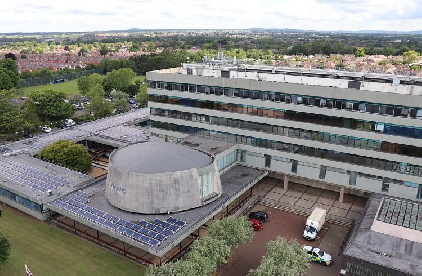 The leader of the main opposition party on Shropshire Council has set out ambitions for his party to take control of the authority following next year's local elections.
Voters will go to the polls six months today, on May 6, to elect a new cohort of 74 councillors to represent them for the next four years.
And Roger Evans, leader of the Liberal Democrat group, has urged people to seize the opportunity to ditch the "incompetent" Conservative administration.
It is, however, a big ask. The ruling group, under council leader Peter Nutting, holds 48 seats – well over the 38 needed for a majority.
Councillor Nutting has thanked electors for putting their faith the Conservatives since he took over as leader in 2017, which he says has ensured the council has gone from strength to strength.
He said: "As the leader of the council for the last four years, we have started on a journey of economic development around the county."
Councillor Nutting said his administration was continuing to work on big projects relating to economic development, health, housing and leisure.
He said: "In Whitchurch we are nearly organized for a new doctors surgery at Pauls Moss, and the scheme will also include a doctors' surgery and social housing. That's subject to a judicial review, but we hope it will be resolved in the next few weeks and then it will be all systems go.
"Work has already started on the first Cornovii development in Monkmoor in Shrewsbury, there is a scheme at St Martins and a planning application has gone in for a big scheme at Ellesmere.
"There is a huge development in Shrewsbury town centre and I am really excited about the Oswestry Mile End project which will open up about 50 acres of employment land.
"In Market Drayton we have got to consider the Greenfields Recreation Ground – the town council wants to relocate the sports pitches to outside the bypass.
"The Air Ambulance wants to change its site at Cosford and we are supportive of the plans, and also very supportive of any extension to the RAF Museum. It is looking like it could be one of the major tourist attractions in the West Midlands."
Other projects being explored include changes to youth services in Bridgnorth, improvements to the Ludlow park and ride, and investment in the regeneration of Bishop's Castle Business Park.
Councillor Nutting said: "I think we have only just started on the journey of economic development and I think we need another four years to deliver some of the schemes we have started."
The next council administration will also see the authority move out of the Shirehall in 2023 and relocate to the Pride Hill shopping centre. Councillor Nutting said this presented an "enormous opportunity", provided the finances "stack up" and planning permission can be obtained.
At least four members of the ruling Conservative group will not be standing in May.
Councillor Nutting added: "I am aware that not all sitting member have been re-selected and there are a number of members of the council who have decided to retire, so I expect quite a few new faces in the new council."
Councillor Roger Evans, who leads the main opposition group of 12 Liberal Democrat members, will have an uphill battle to win control of the council, but said he was confident his group's strong history of challenging the current leadership and putting residents' interests first would stand them in good stead.
He said: "We are working not only to become the major party, but to be the governing party on Shropshire Council.
"Our intention is to put a full slate of candidates up in May and win the majority so we can change the way things are run."
Councillor Evans said the 2017 local elections were overshadowed by the general election coverage.
He said: "We could see a change in people's views in the fortnight before the election. We lost the focus locally as the national media was focusing on Labour and the Conservatives, and a number of people who we expected to be elected didn't get elected because of this change."
Councillor Evans said his group members, unlike the Conservatives, were encouraged to speak at meetings on any issue affecting their residents. All 12 sitting councillors, most of whom have considerable majorities, will be standing again in May.
He said: "Our philosophy is that our communities come first.
"When we take over the council, residents will find a real change in the way the council and committees operate.
"There will be no behind closed doors decisions, it will all be open, transparent, and everything will be said in public and recorded.
"It will be community-oriented. We will endeavour to meet the expectations of residents and we will ensure they get answers when they raise questions.
"Shropshire Council used to have an open door policy when it came to answering residents' questions, but with the current administration that has largely stopped – whether because of workload or because of instructions, I'm not sure."
The Labour group won eight seats in 2017 and currently has six sitting members, all of whom will be standing for re-election next year.
Group leader Alan Mosley said: "The only councillors we have got now are in Shrewsbury, but historically we have held seats in Broseley and in the Oswestry area.
"We will be fighting very hard in all areas, concentrating on those areas where we have particular strengths.
"We are concentrating on maximizing the number of Labour members to provide stringent, focused opposition as we have been doing for the last four years.
"In Shrewsbury it looks like we will be fighting every seat which will be the first time we have done that. We are going to give everybody the opportunity of being able to vote Labour under Keir Starmer, based on our strong record of opposition to the Tory administration."
Councillor Mosley accused the Conservative leadership of crying "crocodile tears" over being forced to make service cuts which have "seriously impacted a lot of people".
He said: "Over the years the austerity measures and cuts implemented by the central government have been a disaster for many of our services.
"We are seeing the impact on our highways in recent years, and there are a number of school safety schemes which have been abandoned because of cost. Adult social care is clearly under-funded to the detriment of large numbers of vulnerable people.
"We have a Tory administration crying crocodile tears about their own government in Westminster which has imposed disastrous cuts on Shropshire Council's grants, causing irreparable harm to Shropshire residents."
Meanwhile Julian Dean hopes he will no longer be the only Green member in the chamber following the election.
He currently sits with the independent group and said: "One thing that won't change is working cross-party.
"We have got a few target seats where we think we are in with a serious chance. In 2019 in other parts of the country there was a real Green wave and we actually doubled our number of councillors, including a couple of surprises."
Councillor Dean said he was confident that the mounting public concern over climate change and the environment would translate into votes. He said measures to reduce traffic to allow for social distancing in Shropshire's town centres during the pandemic had been well-received and made people think more about the kind of environment they want to live in. He added: "There's a real desire for something better."
There are also seven independent councillors, three of whom sit on the independent group under leader Pauline Dee. Of the four non-affiliated members, two were elected for Labour in 2017 and one for the Conservatives, but later quit their parties.
Councillor Dee said: "We can vote for what we think is the best for our electorate. We don't have to toe a party line.
"I would never pressurise the others in the group – my deputy and I sometimes vote differently.
"I can't see why there has to be politics involved."
Councillor Dee said the recent introduction of parking charges in her division, Wem, was an example of how party politics can overshadow local needs.
She said: "Everybody I spoke to from other parties disagreed with introducing parking charges, but when it came to the vote they put their hand up to agree with it. That was to the detriment of local people."