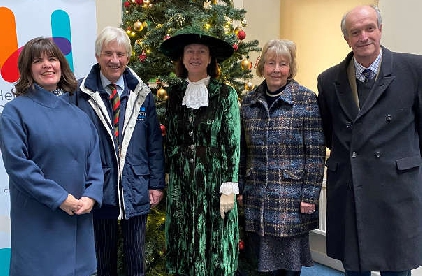 Many ex-High Sheriffs have been generous in joining Jo Hilditch (current High Sheriff 2021) to donate some, or all, of their Winter Fuel Payment of £200 per household to the Surviving Winter Campaign hosted by the Herefordshire Community Foundation.
The Herefordshire Community Foundation is appealing for donations through the Surviving Winter campaign to make sure no one suffers from hunger or struggles to heat their home in the coming months. With soaring fuel prices and lots of households experiencing financial insecurity, many will be unable to cover the basic costs of living such as food, heating and other essentials.
The annual Surviving Winter Appeal raises funds to offer a lifeline to vulnerable households – particularly older people, disabled people and disadvantaged families with young children. With the help of donations, the HCF can provide vital grants to cover fuel costs and help vulnerable people stay warm and well this winter.
There are 13,900 households in Herefordshire who may struggle this winter.
Jo Hilditch says: "You may be surprised to see me in the line-up of High Sheriffs here (I am not yet in the position to receive the generous government handout) but I have joined my colleagues in solidarity to ensure that some vulnerable housesholds can receive help during this winter. I would love to encourage many Herefordians to do the same."