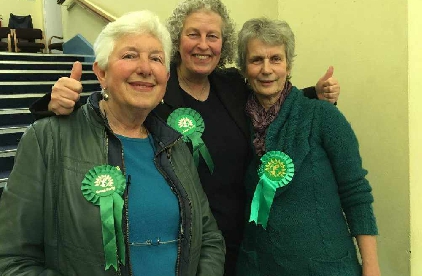 Herefordshire's Green Party leaders are calling for stronger action on climate change and better local services after winning more seats in Shirehall last week.
The Greens defended the four wards they previously held on Herefordshire Council and took the Central, Greyfriars seats in Hereford and won in Birch.
Their share of the vote in their three Leominster seats surpassed 70% as well as at Bishops Frome.
The group has been very active on Herefordshire Council over the last few years campaigning on issues such as how the proceeds from the sale of council-owned farms is spent and a reduction in investments in fossil fuels.
Green councillors were successful last October in calling on representatives of the Worcestershire Local Government Pension Fund board and committee to seek alternatives to investments in fossil fuels.
The fund provides for the occupational pensions of employees, other than teachers, police officers, and fire fighters within the Herefordshire and Worcestershire.
New group leader Ellie Chowns has also called in the past for the public to have its say on how the proceeds from the council-owned farms sale are invested.
Councillor Chowns said: "The message from voters is clear – Herefordshire needs a fresh approach.
"The results of this election show that residents want stronger action on climate change, better services, and more democracy and accountability.
"We've already started discussions on common ground with other political groups, and we look forward to working constructively together to take Herefordshire forward."
The group also gained an extra two town councillors in Leominster.
The market town's South ward saw Tessa Smith-Winnard and Beth Williamson elected with more than 400 votes each.
While Jeremy Milln and Diana Toynbee were also elected onto Hereford City Council as well as the county council.
Coun Toynbee said: "I would like to thank everyone who voted Green and all our many supporters who helped us get this amazing result.
"We will not let you down."
A party spokesperson said: "Overall, Greens polled one in eight votes across the county despite only standing in 12 of the 52 wards.
"Progress since the 2015 full council election is remarkable.
"Then, Greens stood in eight wards, winning two, gaining fewer than one in twenty votes."