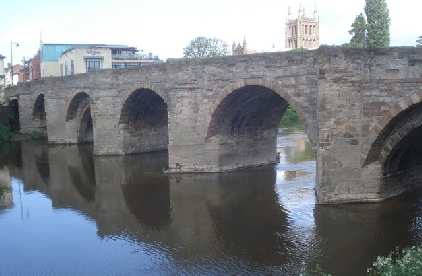 Herefordshire Council has yet to reveal what its final plans are for temporary changes to encourage walking and cycling in town centres.
However, these are expected to be announced soon as the Government has told local authorities that they must act swiftly to receive any of the £250m set aside for schemes.
In May, the Government created a temporary process for new emergency traffic orders halving the time needed for approval to allow changes to be put in place more quickly.
Some of the options being considered for Hereford include lane closures on Newmarket Street, Blueschool Street and Commercial Road to allow social distancing by shops, widened footways and bus or cycle lanes along.
The possible temporary measures include closing Broad Street, King Street, West Street, East Street and Old Wye Bridge to traffic other than bicycle and deliveries.
They are also considering upgrading the southern footway for shared use at Station Approach.
Broad Street in Ross-on-Wye could be closed to traffic from 9.30am to 4pm from Monday to Saturday, with Cantilupe Road being changed to an access-only street.
In Leominster there could also be a timed closure of town centre roads which would affect Corn Square, South Street, High Street and West Street from 9.30am to 4pm.
Proposals for Ledbury include making Bye Street and Woodleigh Road one way and widening the footway in Market Square.
Bromyard could see the pavement widened on High Street and Panniers Lane. Panniers Lane could be made one way from Queen Elizabeth School to the A44.
A timed High Street closure for Kington is also being considered.
Additional parking for bicycles in all town centres is also one of the possible outcomes.