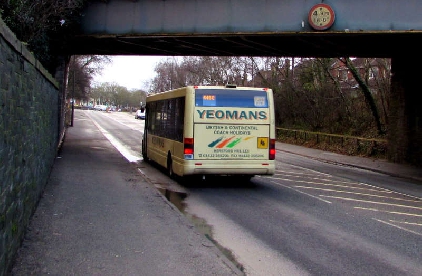 © Copyright Jaggery
Herefordshire Council has unveiled the key points in its plan to improve bus services around the county.
The bus service improvement plan for Herefordshire sets out how the council plans to invest in bus services across the county for a coordinated, reliable and sustainable bus network with a simplified ticketing system and single point of information to make journey planning easier. It also outlines plans for trialling electric buses on the urban bus fleet.
Measures outlined in the plan for the next five years, subject to funding, include electric buses, simplified ticketing and enhancing weekend services.
Councillor John Harrington, Cabinet member infrastructure and transport said: "Investment in bus services was identified as a key element of the council's transport strategy following the Hereford Transport Strategy Review. Buses are a great way to reduce the number of vehicles on our roads and reduce our carbon footprint, but to do this successfully we need a service that is frequent, reliable and easy to use.
"As well as reviewing and re-planning bus services across the county, an important element of our submission to government are plans to trial electric buses in and around the City, which will help improve air quality and modernise the fleet.
"The recent introduction of free weekend bus travel in the county, with a number of additional routes on Sundays, has proved popular and we are certain that people will use buses if they are a reliable and affordable alternative to the car – they may not always be free but they need to be affordable."