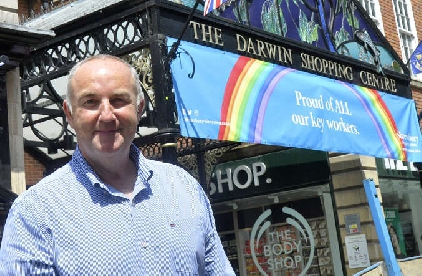 Shrewsbury's Darwin Centre has appointed two new agents to look after the leasing requirements for the Centre.
Shrewsbury-based Cooper Green Pooks has been appointed as the local agent offering the Darwin Centre units to the open market to let. Emanuel Oliver has been selected as the regional agent looking after the Centre's national portfolio.
The Darwin Centre has a strong mix of national brands including JD Sports, Primark, Marks and Spencer and H&M, as well as a varied mix of independents, offering a unique and diverse experience for visitors. Both Cooper Green Pooks and Emanuel Oliver will build on this offer, and plan to bring in new national brands, as well as local and regional traders.
The Centre is performing exceptionally well since coming out of the third Lockdown on 12 April 2021. The Centre has low retail vacancy rates versus the national average and footfall is increasing every week; last week there were 62,681 visitors. Footfall is very nearly reaching pre-pandemic 2019 levels, which is really encouraging.
Cooper Green Pooks is one of Shropshire's longest established real estate names, having initially formed in the 1880s as Pooks. They are specialist commercial property agents, covering a range of property disciplines including sales and lettings, landlord and tenant professional work and property management. The firm has a strong focus on retail in Shrewsbury town centre, with excellent knowledge and understanding of the local retail market.
Emanuel Oliver is a niche retail and leisure property consultancy, providing advice to a variety of institutional investors, property companies, private landlords, retailers and leisure operators throughout the UK, but with a particular specialism in Shropshire. The company was formed by Llyr Emanuel and Dan Oliver in 2015; both have considerable experience and understanding of the property market and are known for their high-quality client advice and results.
Alessio Dyfnallt, Director at Cooper Green Pooks said: "We are truly excited to be instructed as letting agents on the Darwin Centre. The varied tenant mix shows the owners are very keen to create a diverse range of shopping options and experiences. Our ambition as property agents for the Centre is to continue working towards this goal, with the message being that the Centre welcomes all types of tenants – there is a place for everyone. The recent refurbishment of the upper floors and welfare facilities has really given the Centre a fresh new look and with the recent addition of New Look and Clarks it is an exciting time for Shrewsbury's shoppers."
Llyr Emanuel, Director at Emanuel Oliver said: "We are delighted to have been appointed to act as joint agents on the Darwin Centre. As a practice we've been very active in Shrewsbury over the course of the last few years; we are fully invested and believe in its strength as a vibrant retail destination with its mix of national and high-quality local retailers. We are excited to be part of the team that will shape and improve the Darwin Centre's future going forward."
Kevin Lockwood, Shrewsbury shopping centre manager said: "It was important for us to select leasing agents that had local knowledge of Shrewsbury and understand what works in this unique market. The town has a wonderful history of national, independent, and small business success and both leasing agents we've selected will build on this foundation, ensuring the Darwin Centre is a retail destination residents and tourists get really excited about visiting."