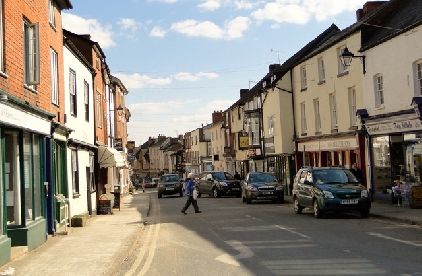 © Copyright Philip Pankhurst and licensed for reuse under this Creative Commons Licence.
Bromyard councillors are looking to spend up to £7,500 on getting consultants to tell them what makes tourists visit the town.
Bromyard and Winslow Town Council backed proposals at last night's meeting to include spending for a feasibility study to develop a tourism strategy in next year's draft budget.
Mayor Roger Page told the council that people visit places such as Stonehenge and Stratford-upon-Avon for obvious reasons but councillors want to know why visitors come to Bromyard.
"What the working group have done is to recommend putting a budget line which is not in currently of between £5,000 and £7,500 to basically do some research on the town," he said.
"It would be expert research on the town via a consultant to get our strengths and weaknesses and selling points to develop a tourism strategy going forward.
"All members of the working group supported that coming forward this evening."
Mayor Page said the experts would compare Bromyard to similar communities.
"Any consultant worth their salt will look at comparable towns. So what is the selling point of this town?
"How does this town attract people from outside of Bromyard to come into the town as a tourist. Why should they come to Bromyard and what have we got that makes them look us up?
"If I don't know Bromyard, and I don't know anything about the town, there is nothing which tempts me to look up Bromyard.
"So the consultant will actually do the work of identifying the strength and selling points of the town in terms of people wanting to look us up.
"Everyone looks up Stonehenge and Stratford-upon-Avon for obvious reasons so we have to find our selling point."
Councillor Peter Andrews said: "We decided on the figure of between £5 and £7,000 because we don't know how much a feasibility study would cost so we thought we would allow between that."
The draft budget will be debated further by the council's finance and properties committee.