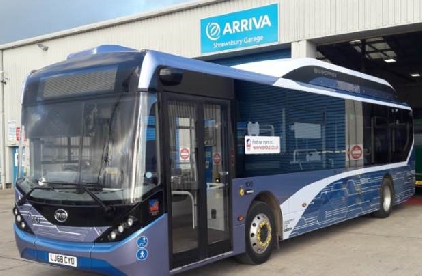 One of the electric buses that has been trialled on Shrewsbury's park and ride service.
Shropshire Council has bid for more than £46million of Government funding to help improve bus services across the county.
Two bids have been submitted to the Department for Transport (DfT). One is for £1.1million to develop a 'demand-responsive' service in rural Shropshire to help link up healthcare services and the existing local bus network.
And a bid for £45m has been submitted to help turn Shrewsbury into an 'electric bus town' – to make all the town's buses electric, and put in place the related infrastructure, such as charging points. This would improve the Shrewsbury service and mean that revenue generated can be used to enhance the rural bus network.
In March this year the DfT awarded Shropshire Council £320,000 to extend the park and ride service to 7.30pm, and to provide a park and ride service between Shrewsbury and Telford hospitals.
The funding bids link with Shropshire Council's plans to launch a 'next generation' park and ride service for Shrewsbury, which will go out to consultation in the next few weeks.