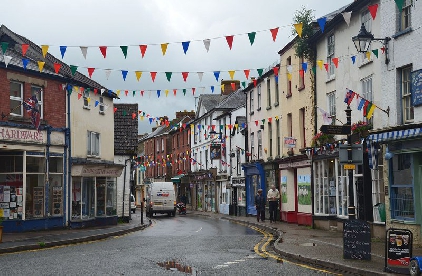 © Copyright Jim Barton and licensed for reuse under this Creative Commons Licence.
Fire and rescue service bosses have raised concerns over road closure plans in Kington town centre.
Herefordshire Council is currently considering proposals to introduce a 20mph speed limit across the county's town centres.
They are also considering the possibility of introducing road closures as part of their emergency active travel schemes.
The Government set up a £250m fund for for local authorities to create pop-up bike lanes with protected space for cycling, wider pavements, safer junctions, and cycle and bus-only corridors.
However, Hereford & Worcester Fire and Rescue Service say the proposals for the closure of Kington High Street could affect their response times.
"We must raise and hereby record that these traffic restrictions will have an impact and could reduce our ability to meet our emergency response times in these areas," their response reads.
"Due to the life critical nature of our work, any delay or extended response time could lead to injury, fatality or loss – seconds and minutes can count when responding to 999 calls.
"In particular, the proposed road closure in Kington causes the biggest impact on us due to the lack of alternative short routes around the high street closure and therefore significant extension of travel times for some personnel."