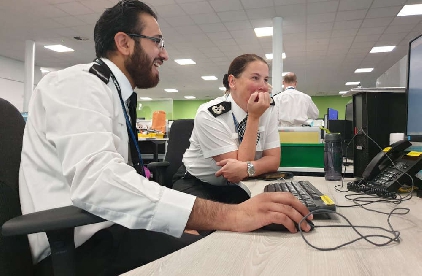 West Mercia Chief Constable Pippa Mills has taken the opportunity to celebrate the fantastic work of its contact handlers – and say thank you to them for supporting our communities through the most difficult of times
She said: "For many people needing the police our telephone operators and digital contact handlers are the first point of contact, and for many of those people, their contact with our Operations Control Centre (OCC) is at a time of distress.
"Staff in our control room are trained to deal with all kinds of scenarios, using specially honed skills to obtain necessary information to assess the threat, risk and harm of an incident and make sure we provide an appropriate response.
"Throughout the global pandemic they have played a crucial role in ensuring we have been able to continue to deliver an effective police service to our communities. They have offered help and support to thousands of people, often at the most difficult time of their lives.
"It was an honour to recently meet some of our staff in our control room and see first-hand the committed, professional and passionate service they deliver. To all of our staff in our Operations Control Centre, and staff in control rooms across the country, I want to say thank you.
"I look forward to spending more time in the OCC in coming weeks and months so we can develop an even better service for our communities."