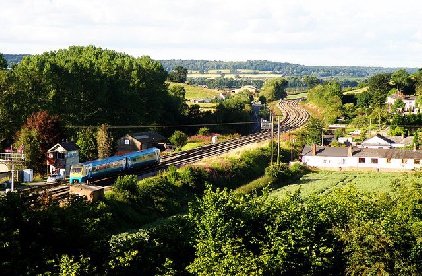 © Copyright Stuart Wilding and licensed for reuse under this Creative Commons Licence.
Local councillors are campaigning to reopen a railway station in Pontrilas.
The old village station served the community for nearly 100 years but was taken away following the restructuring of the railway system last century.
But locals say demand is much higher now and their is a strong case to open a new station half-way between Hereford and Abergavenny.
Parish councillors believe a new parkway station would serve up to 500 passengers a day and could carry freight for local industry such as Pontrilas Timber and Black Mountain Quarries.
They also say it could be useful for heavy transport for the nationally important Pontrilas Army Training Area.
Professor Clive Stainton, who is spearheading the campaign, said: "Pontrilas Parkway is wanted by the local community and it would bring clear, direct benefits in many different ways and, above all, is achievable," he said.
"There is considerable public support for this project. The local Neighbourhood Development Plan has Pontrilas Parkway station at its centre.
Hereford City Council is in favour, as is Herefordshire Council.
"We appreciate that this is a project that will take some time to complete but there has not been a better time than at present to make a start given the needs of the area, the concerns as to growth in road traffic and increased investment in and usage of the national rail system."
Golden Valley South ward councillor Peter Jinman also said there was support for a new station from communities on both sides of the Welsh border.
The group will seek funding for the project from both the UK and Welsh governments as well as local funding.
Hereford and South Herefordshire MP Jesse Norman also supports the project.
"It would be a huge step forward not just for Pontrilas and Ewyas Harold but for the south of he county as a whole to reopen Pontrilas station, and I am hugely supportive of this project.
"With the advent of new technology there are more options than ever to improve our infrastructure, and I am working with Peter and Clive to get this project in front of ministers both in the Government and at the Welsh Assembly."