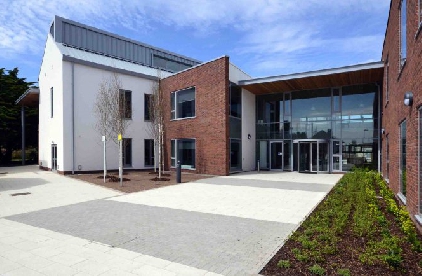 Monmouthshire County Council - County Hall
More than 2,000 people have signed a petition calling on Monmouthshire council not to close a special needs school.
The online petition, started by staff at Mounton House School in Pwllmeyric, Chepstow, was presented before a full meeting of Monmouthshire council last week.
It will now be formally considered as part of a consultation by Monmouthshire council which proposes closing the school for boys aged 11-16 with social, emotional and behavioural difficulties.
Around 250 people have commented in support of the school on the document, including staff, parents, former pupils and governors.
So far 2,345 people have signed the petition, which has a target of 2,500 signatures.
The proposal to close the school has been met with opposition from councillors, staff and parents at the school.
Council bosses say the school only has seven Monmouthshire pupils on roll, equating to a cost of £114,000 per placement.
The council had proposed to expand provision – to cater for girls and to increase the age range to three to 19 – but the plan was scrapped because of costs.
In a statement on the petition, staff at the school said: "There is no way that it should close – it is essential for boys who need the support and simply would not cope in mainstream even if it was in a unit.
"They need more than lessons, the support and care they get from staff at Mounton could not be replicated in a mainstream school and that is the reason it has been able to change so many lives for the better."
Several parents and carers have also commented on the petition.
Lisa Dutka said that the school 'transformed' her son's life, adding that there are "so many children" who need the school.
Chepstow town councillor, Dale Rooke, whose nephew attended the school, said: "Without the dedication, support and guidance of all that work there, he would not have had such a good start to his adult life."
Craig Leggatt, who attended the school in the early 1990s, said: "This fantastic facility was a last chance at an education for me and had it not been available I would never have had the chance to leave school with enough GCSEs to study business and finance and be the successful person I am today.
"More facilities like this are required not less in order to give as many boys the opportunity I had to become a well adjusted adult with opportunities and choices in life."
A spokesman for Monmouthshire council said: "The consultation on the closure of Mounton House Special School is open until Monday, April 29 and accordingly, we continue to receive views from stakeholders and others."