Activities & Ideas for the School Holidays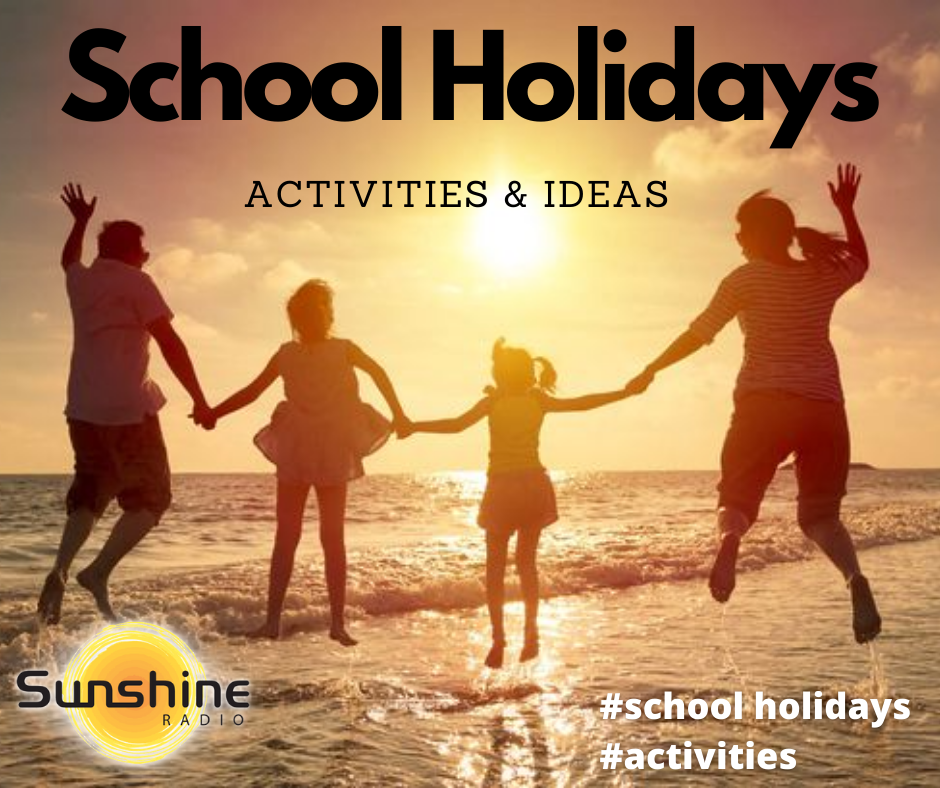 School is out for summer! The time has come once again for family fun, frolicking in the sun and getting things done.
The summer holidays for parents are like marmite, either loved or loathed. Some parents are ready for the school return after a matter of days, already giving grandma the duty of babysitting. Others are just as excited as the little ones, preparing for big days out, beaches and camping trips.
Sunshine Radio understand the summer holidays can be difficult at times, it is hard to find things to do ALL the time. Children are inquisitive and it is not 'unheard' of for them to repeat themselves, nothing is more debilitating than a child saying "I am bored" over a thousand times a day.
To help beat the summer boredom block, Sunshine have compiled a list of fun activities to do at home, and outdoors.
BOARD GAMES AND QUIZZES-
Is it a stay-at-home kind of day? Why not invest in a new fun board game, find out how competitive you are!
Monopoly is adored by all, the capitalist dream of whizzing around the board collecting rent and buying property. This game can feel never-ending, it can be relentless even, but it is a fast-paced and exciting way to spend hours at home with friends and family. Sunshine has an idea for you, why not get some crisps and dip out, gather around the table and have a games day battle? May the best person win!
If board games are not up your street, how about a themed quiz? Choose your buzzer noise or have a paper and pen at hand. Quizzes are excellent to play with children as they are not only entertaining but are also stimulating and educational. If your child loves football, why not test them on their knowledge and dive inside their minds. Create your 'at-home' mastermind quiz!
FARM PARK/ ZOO-
Is your child an animal anorak? - taking them to a farm park or zoo may be a great idea for a day out this summer holiday. Across Herefordshire, Monmouthshire, and Abergavenny there are multiple attractions bursting with creatures of all sizes. Visiting places with wildlife can help a child to understand the importance of animal and environmental care, with many educational benefits to be had.
Certain wildlife parks offer the opportunity for children to experience zookeeper life for the day, allowing up close and personal interaction with many different species.
MOVIE+POPCORN NIGHT-
Linking to the board game and quiz idea, why not finish off the game with a movie and popcorn evening? Make things interesting by allowing the winner to pick the movie for all to watch. Make it even more special by adding some yummy movie snacks such as popcorn or hot dogs.
KAYAKING/CANOEING-
Kayaking and/or canoeing is a great way to introduce your children to water. It is an excellent form of exercise that allows visual stimulation due to a change of scenery and surroundings. This is a family friendly day out, with the possibility to stop off for a pub lunch pit stop.
BLANKET FORT MAKING-
This is more suited to the younger children, those still in the imaginative playing years. If you have any old bed sheets and pillows, spending some time constructing the perfect fairy fort or knights castle with your child will be a problem-solving exercise as they figure out the logistics of how to assemble the bed sheet kingdom. After mastering the task of building the fort, it is a perfect sanctuary for play, movie watching and power naps. If possible, decorating the inside with blankets, fairy lights and any other additional cosy customs will add to the enchantment.
WATER PHASER FIGHTS-
If the sun is beaming down and some refreshing relief is needed, getting your hands on some water phasers will enable imaginations to run wild with chasing and hiding in the garden. This is a fun way to keep cool in the heat of summer and a timeless favourite.
BIKE RIDE-
Perhaps there is somewhere you have been dying to explore with your children, a new scenic route or area near your home. Bike rides are more appealing to children rather than walking as it involves a lot more stimulation, speed and control. The summer holidays are the perfect opportunity to have an adventure out on bikes, it is a brilliant bonding experience and is something that can be done at whatever pace.
FANCY DRESS FASHION SHOWS-
This involves getting out any old clothes or fancy dress items. Let your children's imaginations go wild with mixing and matching shirts, skirts, wigs and dresses. Once all dressed up, it is a great entertainment to watch them put on a singing/dancing or acting performance. If you have lots of fancy dress items, or old clothes, you could put on a catwalk show to exhibit all the looks.
ARCADES-
If your little ones, or even not so little ones are competitive and enjoy games, it may be a fun option to take them to an arcade!
There are countless entertaining attractions that are sure to keep any individual occupied for hours. This is something that even parents often find themselves enjoying and getting hands on with.
Hereford

Low-level cloud

High: 4°C | Low: -4°C

Ludlow

Sunny intervals

High: 4°C | Low: -3°C

Abergavenny

Low-level cloud

High: 5°C | Low: -1°C

Monmouth

Low-level cloud

High: 5°C | Low: -2°C