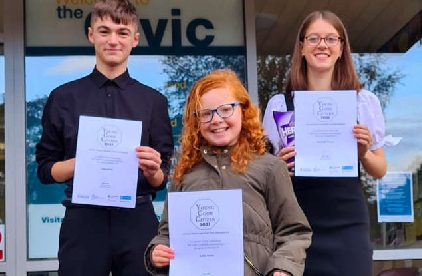 Three children from North Worcestershire have today been awarded Young Good Citizen 2021.
The award is given to those children who are nominated by those they work with or support, is on behalf of the community and supported and acknowledged by Chief Constable Pippa Mills.
Elizabeth Thomas, 17 from Bewdley who among other things, helped to raise £2k for a school in Uganda to provide food parcels to help the children cope during lockdown.
Emilia Butler who is 9 years old, played music live during lockdown on social media to raise people's spirits across Bewdley.
Logan Dixon, 16, volunteers lots of his time to several community projects including Baxter's Community Ambassadors and Worcestershire Youth Cabinet.
Sergeant Lisa Hornberger who presented the awards said "It was wonderful to be able to recognise each of these young people for their outstanding contributions. On top of school and the pandemic, they have each sought to help other people, to support their communities and try to make other people's lives better. Well done to each one of them and thank you for everything you have done."
Nominations for the Young Good Citizens awards 2021 were received from across the force. A ceremony for the winners from each policing area will be held at Police Headquarters on the 1st November 2021, whilst all those nominated receive a certificate from their Safer Neighbourhood Teams on behalf of the Chief Constable.