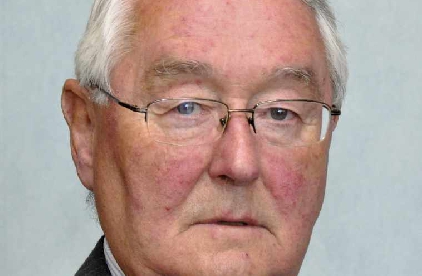 Speedwatch volunteers are "walking away" from the role because they're not catching enough drivers, and blame the fact that they have to put up temporary warning signs when on duty, a councillor says.
Shropshire councillor Roger Evans told the West Mercia Police and Crime Panel his constituents think the rule "destroys the effectiveness" of the patrols, and that receiving a warning call or letter from police would change speeding drivers' behaviour.
Police and Crime Commissioner John Campion said "not catching anybody can also be a sign of success", but added that he was concerned speedwatch volunteers were losing motivation.
Chief Constable Anthony Bangham said signage was legally required, but it was "debatable" whether this had to be temporary or a permanent message could be added to village entrance sign.
Cllr Evans, who represents Longen, asked Chf Con Bangham about the legal position at a previous PCP meeting.
"I thank you for the reply, which in essence says permanent signs are not OK," he said.
"Each rural speedwatch, when in operation, must put up the appropriate A-boards.
"Is there any legal or safety reason why that has now been adopted? Because I'm being asked and asked 'Why can't we put a permanent sign up at the village entrances'?
"Some volunteers are walking away because they say 'When we put the signs up traffic does slow down. We want to identify the offenders for it so we can shame them and get the local police to send them a letter or stop them'.
"Is there a reason why we cannot have these signs permanently displayed on the main plate, or something like this, and do away with the A-boards?"
Mr Campion said: "Part of the mission of enforcement must be about changing behaviour.
"Sometimes a wake-up call or letter might be more impactive, but I don't always see not catching anyone as a barrier, but maintaining the motivation of those that are doing is important to me."
Chf Con Bangham said he agreed with Cllr Evans's intentions, but added: "The interpretation of the legislation that allows us to do what we need to do sometimes has grey areas where one force takes one view and another takes a different view. That's why you can see some saying the signs are acceptable.
"You have to have signs out. I think it is debatable whether you need temporary signs as well as the permanent signs, and I think we can explore whether that is a different way of achieving the ultimate outcomes, but – and this is a big 'but', because I lead on this nationally – believe me, we are trying to tackle speeding and in our rural areas and in West Mercia this is one of our biggest killers of people.
"Therefore, if you think there is a different way of achieving that, I'm really keen to have that conversation."
They were speaking during a discussion of the PCC's rural crime strategy, which was under public consultation between October 10 and November 8.